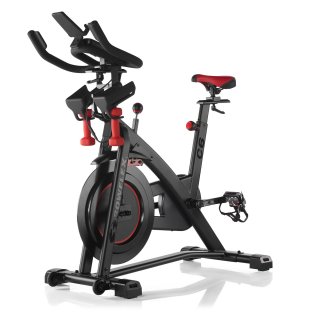 When I read on Digital Trends about the release of the Bowflex C6 Indoor Exercise Bike, I definitely was interested in learning more about it. The bold claim is that it's half the price of a Peloton bike with all the same features.
The base price of a Peloton Bike, what they call the Basic Package, runs $2,245...and that's before you start paying $39/mo for their membership that gives you all their online classes and such. Not exactly cheap. Plus, based on what I understand, you can't use any other software program except theirs. That means no Zwift, TrainerRoad, and such. You're effectively locked into their ecosystem.

By comparison, a Bowflex C6 will set you back less than half that at $899 and even comes with weights. And, just like the Peloton, it comes with pedals that have built-in SPD functionality. It doesn't have an LCD screen so you'll have to use your own tablet or phone for any online connectivity. But the good thing about that is that there's no lock-in. With Bluetooth connectivity you can hook up the C6 to just about any third-party service out there...even Peloton's own service! Great deal, right?
But as I researched and compared the Bowflex C5 with the Peloton, I learned some things about them that I think most people should be aware of. They're at least things that you should think about if you're interested in a stationary bike.
For starters, Bowflex is owned by Nautilus who also owns a bike company called Schwinn. Ever heard of them? Of course you have. What's interesting is that Schwinn also makes fitness products including stationary bikes. Take a look at this one: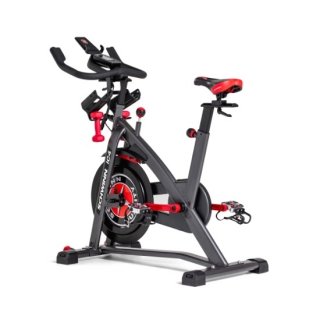 Does this one look familiar? It should because its essentially the exact same stationary bike as the Bowflex C6. Seems to me that the C6 is nothing more than a rebranded Schwinn IC4 Indoor Cycling Bike. As far as I can tell there isn't any difference in the two. Plus, the Schwinn is a $100 cheaper. Being that it's backed by Nautilus I can't see support being any different either so, if you're interested in the C6, you might consider just picking up the IC4 instead.
Here's the thing though that I've learned about both the Peloton and the C6/IC4. If all you want is a simple stationary bike that can sort of mimic your own bike then they're good. But they do take up room and you have to remember that they will not mimic road riding all that well. They weren't designed for that. They're designed more for simplicity, ease-of-use, and basic interval training.
Plus, all resistance levels are applied manually which complicates the ability to get accurate power level readings. You have to turn a knob to get different resistance levels while in mid-ride. This can be problem, especially if your goal is to get on Zwift, TrainerRoad, or some other training program where power levels are measured and need to be accurate for effective training rides.
That's not to say that these bikes don't serve a purpose. They do. But you have to think about what your goals are and make sure they fit them. Otherwise, you could end up buying something that doesn't cut the mustard.
I learned that myself with wheel-on smart trainers. The experience I had with them wasn't what I expected. As such, it was a bit of a let down.
If you want to get serious with your training and want the best experience with online training programs then you might be better off with a smart trainer like the Wahoo Kickr Core which is priced right at the same price as a Bowflex C6. The benefit of a smart trainer is that you get to use your own bike with controlled resistance that matches the training program you're on. No knob to turn either. Instead, you just shift your gears to fit the effort and power needed.
But if all you need is something that allows you to do some interval training while still allowing for some online connectivity then a C6/IC4 might just be the ticket. It's a bike that you can put in a corner and not have to setup each time. You don't have to drag in your bike, take off the back wheel, and set it up on a trainer each time. If ease of use is what you're after then a C6/IC4 is likely a good buy.
The C6/IC4 is pretty tempting for me. I do like the idea of a dedicated indoor bike with little hassle. But, at the same time, I like the idea of having more accurate power readings for the indoor rides I do. I'll probably stick with a good smart trainer but, for recommendations sake, I'll keep the C6/IC4 in the back of my mind.