Or Why Wheel-on Smart Trainers Suck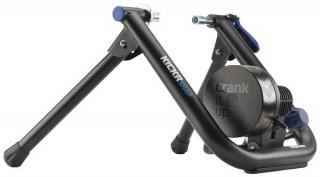 I've been using a classic fluid trainer for a little over a year now, an Elite Qubo fluid trainer to be exact. It works and does allow me to do interval training using my power meter and other sensors but I know for sure it's not likely to be anywhere accurate in terms of power output. Only option for that is to upgrade to a smart trainer with more accurate power output.
Now, if you're like me you might consider a budget model and decide to go with a wheel-on smart trainer. This might seem like a good way to go, especially if you've been using a fluid trainer for a while. But there are some limitations you should be aware of.

I looked at many budget smart trainers like the CycleOps M2 and a few others but decided to go with the Wahoo KICKR SNAP. I've been using ELEMNT bike computers for a while now and have been thorougly pleased with them. As such I figured the integration with a KICKR would better suit my needs.
The problem with the KICKR SNAP is the same problem with just about every on-wheel trainer: calibration. If you don't well-calibrate the trainer ahead of training you can end up with wildly inaccurate power readings. Thus skipping the calibration step with any on-wheel trainer isn't recommended. And for a trainer like the KICKR SNAP the tension on the wheel has to be just right or the whole thing doesn't work.
That's where my experience with the KICKR SNAP comes in. Every time I set it up I had to do a spindown calibration. This requires making sure that tension on the tire is correct. A spindown of the wheel has to be between 10 to 15 seconds. When I initially got the trainer, a spinddown calibration didn't seem like a big deal. You basically have to do a 10 minute warmup on the bike prior to a spindown, adjust the tension, and do it again till you get it right.
Problem is that getting the bike up to speed for the spindown wore me out before I could even get to my training. Seriously. The last time I did a spindown I had to do it three times and I finally just threw my hands up and gave up. "Why does it have to be this hard?", I thought.
Honestly, I don't fault the trainers. I may sound like I'm ragging on them (which I am!) but even I know that these trainers have a place in the market. For many folks, a wheel-on trainer is just fine and the time spent calibrating them is a relatively small inconvenience.
For me though I would much rather have something that doesn't require so much work to calibrate it. I just want something that I can just get on and start training with little to no calibration. Good news is that there are now entry-level direct-drive trainers that are a great step-up from most wheel-on trainers. Granted, they can cost twice as much but the cost does mean less time fussing with calibration.
I'm hoping to get a Wahoo KICKR CORE sometime in the near future. At $900, it's less than most of the other low-end direct-drive trainers while still offering a lot more bang for the buck. There are others by Tacx, CycleOps, and others around this price point so its worth exploring your options before buying. Granted, you'll likely have to spend a little more for a compatible cassette but that's about it.
In the end, it boils down to what you want out of it. If you're ok with spending less and dealing with the hassle of calibration then feel free to go with a wheel-on trainer. Otherwise, spend a bit more and get a direct-drive. Your sanity will thank you.