Recently, I decided to get back on TrainerRoad after a bit of a hiatus. I've talked about my experience with TrainerRoad a bit along with my philosophy of keeping training simple. I still prescribe to that principle and, honestly, with TrainerRoad that simplicity is still there.
The problem I had before was that I wasn't physically ready for the demands that a program like TrainerRoad applies to a cyclist. It's a tough program that takes a lot of dedication. The average training plan takes a good 20 weeks from beginning to finish dedicating an average of 3 to 4 hours a week to just on-the-bike training. Add on a few hours a week of strength training and it ends up being just too much too soon. So I backed out, canceled my account, and decided to just stick with simple rides mixed with a bit of interval work and some strength training.
But now that I've built up a good degree of fitness, my goals demand that I get more serious with my training. Being that my goal is to do a 100-mile century, a solid structured training plan is now a must. Unlike previous attempts, I'm hoping that TrainerRoad will deliver.
In this introduction to TrainerRoad, I'll talk about how it works, what workouts consist of, and why I decided to give TrainerRoad another go. Now, there are lots of other reviews out there that go into the more finer points. Instead of going through every little thing, I'll be sticking with the parts that I found particularly interesting to a simple cyclist like myself.
How TrainerRoad Works
TrainerRoad is a structured training system for cyclists. Their goal is to make you a faster cyclist. It's a system that differentiates itself from other cycling training programs like Zwift and The Sufferfest in that it doesn't offer any virtualized environment and concentrates itself solely on bike training.
TrainerRoad has training plans for different kinds of cycling broken down into three different phases: Base Phase, Build Phase, and Specialty Phase. What you chose to focus on in the Specialty phase largely dictates what Base and Build phases you'll pick.
In my case, to prepare for a 100-mile century ride, that's 12 weeks of Sweet Spot Base phases, followed by 8 weeks of a Sustained Power Build phase, and finished off with 8 weeks of a Century specialty phase. That's a lot for any novice cyclist just starting out. No wonder I fell apart after just three weeks of it!
You don't have to use a training plan though. In fact, you can roll your own plan by either selecting from the 2000+ of pre-designed workouts or create your own workout using their Workout Creator.
Whichever direction you chose, you can setup a full schedule using the Calendar functionality which is one of my favorite features in TrainerRoad.
Using the Calendar, you can schedule out all your TrainerRoad specific workouts as well as other workouts outside of TrainerRoad. I primarily schedule out strength training routines along with whatever workouts are added for a particular TrainerRoad training plan.
The neat thing about the Calendar page is that you can see how much time and stress is being added to your training from week to week. At the top, a basic chart shows side-by-side comparison of your TSS (Training Stress Score) for each week. All this information helps you in determining your goals and keep you from overtraining.
You can get to a larger TSS chart on the main Careers page, which shows both your weekly and daily TSS scores in a table below the TSS bar chart.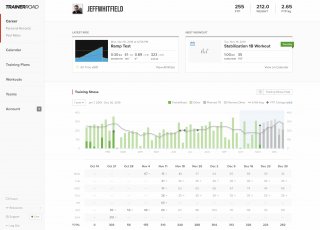 You can also use the Calendar Export feature to view your TrainerRoad calendar within Google, Outlook, or Apple calendar apps.
From here, you go from scheduled workouts to actually doing them.
Doing the Workouts
TrainerRoad provides apps for iOS, Android, Windows, and Mac. To do a workout, you basically have to download one the apps, pair your sensors via Bluetooth (heart rate, cadence, speed, and/or power meter), and load up a workout on the app. You'll also need some sort of trainer for your bike. If you're not sure if your trainer is compatible, TrainerRoad provides an Equipment Checker section on their website.
For my personal setup, I have an iPad Pro attached to an iPad holder on the end of a boom microphone stand. My bike is attached to an Elite Qubo Fluid trainer and I use the Wahoo heart rate, speed, and cadence sensors that I use for my ELEMNT ROAM. For power, I use a Velocomp PowerPod power meter that I setup with indoor mode enabled. This setup works pretty well, and, while it's not as good as a smart trainer, it's budget friendly and gets the job done.
I'm considering a modest upgrade later to either an entry-level direct drive trainer or a TrainerRoad compatible spin bike. At the moment, I'm looking at either a Wahoo KICKR CORE or something along the lines of a Bowflex C6/Schwinn IC4 (they're essentially the same bike).
Doing workouts with TrainerRoad is a pretty straight-forward experience. Once you've loaded and started a workout, you'll be presented with a screen showing your current power, target power, interval time, total time, heart rate, and cadence. Below you'll see a graphic showing you the overall workout intervals and various lines that represent your power and heart rate. Along the way, text will pop up with various instructions and information about the workout.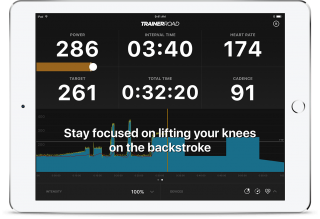 When I'm on a workout, I tend to concentrate pretty heavily to my target power and cadence. I typically listen to music when I do a workout. I find that trying to listen to a podcast or the like is just way too distracting. When that happens, my target power and cadence tend to go all over the place. Best to just stick with music and get all zen with the workout.
About the only complaint I have is the text that pops up. It forces you to keep your focus on the screen. That's not a bad thing per se. Your focus should of course be on your workout. My problem is that, at times, I miss a bit of pop up text and can't go back to read what was said. I think what would fix this is the ability to preview a workout along with the text instructions that go with it. That way I can be fully prepared for the different parts of the workout with the text being more of a guide rather than something that I have to constantly be focused on during a workout.
Rolling Your Own Structured Training Plan
As I mentioned at the beginning of this post, I initially dropped TrainerRoad simply because I had way too many false starts due to overtraining and lack of fitness. Over time though I have greatly improved my overall fitness to the point where I started re-evaluating the need for more structured training.
At first, I thought I could roll my own training program by syncing interval workouts to my Wahoo ELEMNT ROAM and perform them in indoor mode. While it worked it wasn't without its flaws. For one, you have to use something like TrainingPeaks, Today's Plan, or TrainerRoad to push the workout to the ELEMNT ROAM.
With the free plan, TrainingPeaks does allow you to push a custom workout but you can only do it on the day of the workout. Plus, you can only have 5 workouts in your library at any given time. That basically means programming in workouts every other week or so. Not fun!
There's also the option of using workouts on TrainerDay (what used to be called ERGdb) which is a site devoted to open-source cycling workouts. The only problem with this is that it requires that you hack your ELEMNT. Without using TrainingPeaks or the like, you basically have to push a workout file to your ELEMNT using the Android File Transfer app. Not exactly an ideal option if you're concerned about breaking your ELEMNT. I decided not to go this far.
Aside from that, you still have to schedule your workouts and determine the overall effort. You could use a basic calendar with a spreadsheet but that still requires a degree of manual effort. I tried using a calendar but really missed the TSS numbers associated with upcoming workouts and weekly stats.
After trying to roll my own, I found that it was a little too much effort. Plus, many of the books and other resources I read seemed to focus more on heart rate based training rather than power based training. I had a bit of a hard time trying to get a plan together that was simple and fit my goals well.
In the end, I decided that perhaps it was time to give TrainerRoad another try.
The Return to TrainerRoad
A few weeks before I renewed my TrainerRoad subscription, I performed an 8-minute FTP test using the Wahoo ELEMNT ROAM. Prior to this, my FTP was at 202 watts. To my surprise, it jumped to 222 watts after finishing the FTP test. I akin this to the recent Shimano GRX groupset upgrade. Going from an 8-speed to an 11-speed likely improved my pedaling efficiency a bit.
Even with the FTP increase, I wondered if maybe I could do a bit better. The test felt pretty good but the two 8-minute efforts felt...well...a little easy to be honest. I found that I could easy pedal it at 60% of that so, yeah, seemed a bit off which surprised the hell out of me.
After signing back up for TrainerRoad, I went ahead and did the Ramp Test. I was darn curious on how it would compare to the 8-minute FTP test I did just a week or so prior. The results were quite shocking.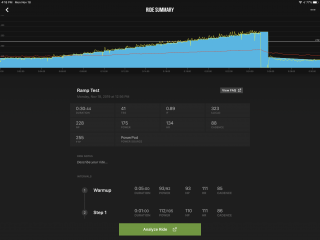 Looking at the test results, the white line shows the prior FTP of 222 watts. I hit that mark about 18 minutes into the test. After that, power kept going up and up ever minute. 21 minutes in I hit 300 watts and, while I felt pretty labored, I still felt like I had a bit left in me. A minute later it hit 321 watts, then 328 watts, and then 340 watts. That's about the time that I knew that I wouldn't likely go any higher. I stuck it out at 340 watts to finish out that minute and then stopped.
The test results came back with a shocking recommendation of 255 watts! Wow! What an increase! For the first time ever I have results that basically tell me that, if I stuck with the FTP I got from the 8-minute FTP test, I would effectively be under training by a good 20% to 25% of my potential.
So, yeah, right off the bat I'm getting results...and I haven't even really started training yet. That to me is the primary benefit of TrainerRoad. A training program will only work if it knows where to start you off. If you're not measuring where you're at properly then how can you push yourself further in the right manner?
I'm liking the Ramp Test and I think it's likely a better way to measure current fitness levels better than the 8-minute FTP test. The problem with the 8-minute and even the 20-minute FTP tests is that it's hard to gauge a pace that is high enough to get a result that matches your true potential. Seems the TrainerRoad guys are aware of this and thus the reason for the Ramp Test design in the first place.
Conclusion
Back when I started using TrainerRoad for the first time, I subscribed to the TrainerRoad Podcast, which I still listen to. Listening to Coach Chad, Coach Johnson, and Nate Pearson, it's clear these guys are passionate about TrainerRoad and cycling in general. They've designed a program that gives you the best results based on your fitness level.
After signing back onto TrainerRoad, I've already populated my calendar with the first two phases of Sweet Spot Base training as well as upcoming strength training workouts. I definitely miss the calendar and the TSS charts for sure. There are things here and there I wish were different but, as with everything, TrainerRoad is a program that is constantly improving. Now that I've improved my fitness level, I'm looking forward to seeing where TrainerRoad will take me.
Stay tuned for more TrainerRoad update