For any serious cyclist, saddle bags are a necessity. It's the one accessory any cyclist should have. The reason is that anything can happen out on the road so having the necessary tools to fix your bike (or you!) is a must. Your saddle bag should have things like a spare tube, tire repair kit, multi tool, and such so that when your bike does have issues you're not stuck having to call an Uber. Or, worse, pushing your bike back to your car if you're out in the weeds. Also, in case of injury, you should also have a minimal first aid kit.
If you're like me, your needs might go beyond just a saddle bag. In that case, adding something like a storage bottle might make sense to help extend the storage capabilities for lesser used things.
In this post, I'll talk about what's in my saddle bag and storage bottle. What each person carries is a little different so the choices I made might not be the same as others. Some of it might even seem a little excessive. In fact, my saddle bag has evolved to the point where I ended up getting a storage bottle to store additional stuff under the down tube.
I carry a lot of stuff for sure, so let's dive in and see what's in my bag and bottle! Before I go into detail, here's a full list of what I carry:
Saddle Bag
Spare tube
Tire levers
Digital pressure gauge
CO2 cartridge and inflator
Tire repair kit
Multitool
Wet wipes
Gorilla tape
Spare tubeless valve
Storage Bottle
First aid kit
Spare valve stems w/ stem tool
Quick links
Zip ties
Spare derailleur hanger
Extra CR2032 batteries
Spare GoPro thumb screw
Saddle Bag and Storage Bottle
My saddle bag is a Road Runner Tool/Saddle Roll, which is an incredibly versatile fold-up style saddle bag. I used to have a large Topeak Aero Wedge Pack which is a great saddle bag, freakin' huge too! But after adding an optional rack to my bike, I needed a saddle bag that wasn't so big.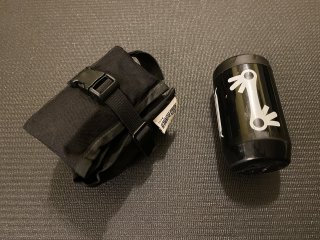 The Road Runner fits more neatly under my saddle and allows for just enough room so that I can slide a rack bag onto my rack and not run out of room due to an oversized saddle bag.
However, to do that I needed to shift some things around, so I got a Specialized KEG storage bottle to migrate a handful of things to. It's water tight and has a hidden little section under the cap that's good for little parts like extra chain links and such. I store it in a spare bottle cage mounted under the down tube. Perfect size too in that my front wheel doesn't hit it.
Saddle Bag Contents
Spare Tube

One of the first things that goes into my bag is a spare tube. For some, it may seem weird carrying a tube while running tubeless. But, let's face it, tubeless setups are not perfect. Anything that can go wrong will go wrong.
Case point, no more than three weeks ago at the time I'm writing this I did a gravel ride where I ended up with a major hole in my back tire (which you can read about at the end of my review of the Specialized Pathfinder Pro). An on-the-trail attempt to repair it failed so I had no choice but to put in a tube.
So, yeah, I carry a tube with me at all times. Definitely have thanked myself later on that one trip when I needed it. In fact, for long all-day rides I'll likely consider carrying a second tube in another bag just in case. Redundancy can be a good thing when tragedy decides to strike twice.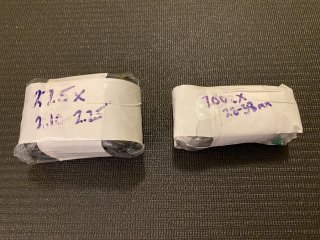 The tubes I put in my pack are kind of funny. Shane Miller of GPLama has a tip I use on how to prepare a spare tube. Squeeze all the air out of them, throw baby powder to keep everything from getting sticky, wrap them really tight with a rubber band around them, put them in a Ziploc bag, and then wrap them with white Gorilla tape. With a Sharpie I write the tube size on them. After all this, they end up looking like something that's illegal, like I'm eliciting some kind of illegal drug or something. Definitely throws people off when they see them. :P
Tire Levers
At the moment, only one of the wheelsets I own has tires on them that are easy to get on and off if needed. The rest are pretty darn tight so carrying a few tire levers is a must.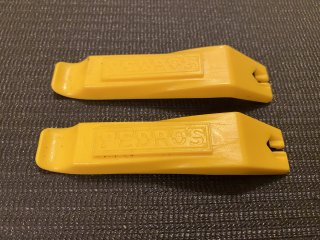 As such, I pack a couple of Pedro's Tire Levers in my bag. They're light, don't take up much room, but super valuable when you need them.
Pressure Gauge
Many cyclists don't bother to carry a pressure gauge. Personally, I like to carry one. I've had instances where I had a slow tire leak and, without the ability to check my pressure, I would have never known it. Plus, if I have to fix a tire and put pressure back in it's nice to know that I'm running the tire at the same pressure as before. Just don't like going with feel alone on what the right pressure is.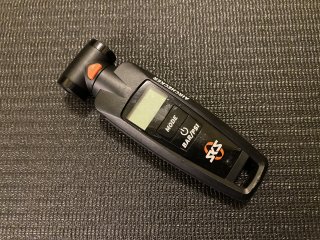 I used to carry a rather bulky, cheap $15 gauge but, after using my SKS Airchecker at home for a while, I decided to buy a second one to put in my bag. It's a digital gauge and takes up a lot less room than the non-digital one I used before. Plus it's far more accurate than just about any standard gauge.
CO2 Cartridge and Inflator
I run higher volume tires (none of the tires I ride now are under 37mm). As such, I carry a 20g CO2 cartridge and a Lezyne Control Drive CO2 for those times when I need to burst some air into the tires.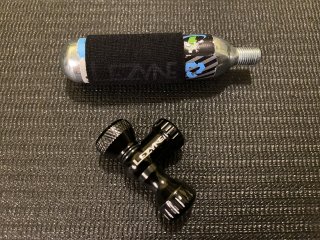 Most of the time, if it's just a quick fix or a tube insertion, I'll use the Topeak RaceRocket that is stored on my frame. But I like to keep the CO2 option handy in case my tire unseats and needs a good blast of air to reseat. Let's be real though...there will be that one time where I'm too damn tired and lazy to use the pump so, yeah, CO2 it and call it a day.
Tire Repair Kit
Most of the time with a tubeless setup, if you get a little hole it usually seals itself up with the sealant in the tire. However, if you get a pretty good size puncture, you're gonna need to plug it up. As such, having a tubeless tire repair kit is good to have in your saddle bag. In most cases, you'll be able to plug up a hole and pump your tire back up a bit without having to unseat it and put a tube in. Noice!
When I got my first tubeless tire setup, I purchased a Genuine Innovation Tubeless Tackle Kit to put in my bag. Fortunately, I didn't need to use it...that is up until three weeks ago (that whole affair with the Specialized Pathfinder Pro I mentioned above). Boy, did it fail me hard! I had a hard time getting the repair plugs ("bacon strips" as some like to call them) out of their plastic wrapper. Even then, it was hard threading them onto the tool itself. The first bacon strip didn't even want to go into the hole. I had to grab another one which did go into the tire...but didn't seal it for squat. Gave up and just put in a tube.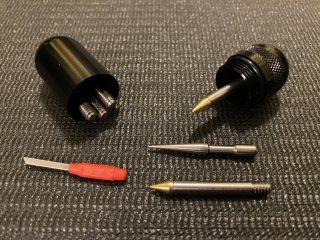 In an attempt to fix the hole in the tire, I looked into other solutions and arrived at the Dynaplug Pill. After purchasing one and trying it out, I instantly sidelined the old kit and gave this one a new home in my saddle bag. The Dynaplug solution seems far easier to deal with. Plus, it can fix bigger holes that the previous one couldn't.
Multitool
A good multitool is a must in any saddle bag. The main reason is that if anything needs fixing or adjusting on your bike you're gonna need the tools to do it. Since you can't carry a whole toolbox with you, multitools allow you to carry the bare necessities in a much smaller package.
When I put together my first saddle bag, I added a rather cheap multitool I found on sale at my local bike shop at the time. It wasn't particularly good so, not too long after, I upgraded to a Park Tool IB-2. It's a good multitool and certainly has all the main stuff one might need...at least when it comes to your basic hex wrenches.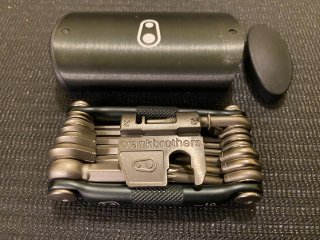 But when I read about the CrankBrothers M19, it occurred to me that perhaps an upgrade was needed. The thing that always kind of bugged me about the IB-2 was that it was missing a Phillips wrench. The M19 accommodates that with two Phillips sizes. Plus, there's the addition of a 10mm hex wrench which should come in handy for a few parts on my bike should they ever come loose in the wild. There's also spoke wrenches built in which actually could have come in handy on one of my rides when I discovered that a spoke was loose (this was before getting the M19). It's definitely bigger and takes up more space mainly due to the case that it comes with. I almost considered ditching the case but I read how the case actually helps in keeping it from corroding over time. Reading the reviews on the M19, it's so well received that to not get it would have felt like I was cheating myself.
Miscellaneous Stuff
There are a few other little things I pack in my saddle bag. I'm always reading tips on little things to add to a saddle bag that are super valuable when needed.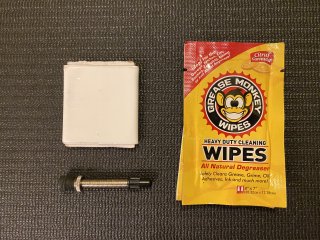 Because things can get a little greasy, especially when dealing with a messed up chain, I pack a couple packets of degreasing wet wipes, specifically the Grease Monkey Wipes. These are pretty cheap and come in 12-count and 24-count boxes. Great for wiping your hands off or whatever else after a dirty job. Personally, I don't like getting my hands all dirty only to put my bike gloves back on and get them all nasty on the inside. So, yeah, being able to wipe my hands off is nice.
I also have a small little roll of duct tape. I don't buy any pre-made rolls though. Instead, I just take a small square piece of cardboard and wrap it neatly with Gorilla tape to the point where it's not too thick. Duct/Gorilla tape is super versatile so it's good to have a small roll around. You can use it to patch a tire, tube, or rim. Broken light or bottle mount? Duct it back onto your bike till you can get home to fix it. All kinds of highly creative ways to use duct tape to fix things on the fly while on the road.
Lastly, I carry a spare tubeless valve, basically an older one from a prior tubeless setup that has a little life left in it. Any old or cheap valve will do...as long as it works. It's just to fix things till you can add a permanent fix later. I had one time where the rubber around the base of a valve was wearing and causing a slow leak. If the base completely failed then I would be in a pickle and would have to go with a tube. But, with a spare tubeless valve I can just replace the valve and be on my way. Much easier fix and the valve itself takes up very little room. Does mean unseating the tire to get to the valve but you really only have to do it to just one part of the tire on one side. Might need to use a CO2 to reseat it though. But, still, far easier, less messy, and takes less time. Bueno!
Storage Bottle Contents
First Aid Kit
One of the things I purchased for my saddle bag when I first started riding was a first aid kit. I purchased the Hero Kit Crash Pack off of Amazon, which still remains as the core of my first aid kit. It contains all the necessities that one might need in a time of injury.
I've used it a few times (unfortunately) and just simply resupply what was used with refills purchased at REI or the drug store. The main things I found that I replace more often than not are Bandaids and Lidocaine gel. I've replace gauze pads and such but the Bandaids and Lidocaine are the most common for me. The only thing I added was a few extra latex gloves, which I found is useful for really messy bike repair jobs.
Because I needed to add this to my Specialized KEG, I ended up ditching the bag that the first aid kit came in and just used a Ziploc bag. This allows me to wrap it snug into a more cylindrical package that can be slipped right into the KEG. I've tried using other bags but keep going back to the Ziplocs. They're not the most sturdy bags but their thinner, easier to bend into shape, and way cheaper to replace.
There are lots of kits like this out there and, honestly, you don't even really need one. You could put together your own makeshift first aid kit using stuff from the drug store and/or places like REI that have a lot of first aid supplies. Just grab a heavy duty Ziploc and fill it up with what you need. Main thing is just making sure you don't add too much to the point where your kit doesn't fit comfortably where it will be stored.
Miscellaneous Stuff
There are a number of "just in case" things I like to put in my KEG. Unlike the things I add to my saddle bag, these are things that less likely to be used but super valuable when needed.
Inside the storage compartment under the cap, I have a few spare valve stems, a small stem tool, and a few quick links for the chain. Valve stems might seem like an odd thing to carry but with a tubeless setup if a valve stem gets super gunked up with sealant you're better off just replacing it. Sure, you can probably clean the stem...but what if you're on the road and have to deal with a gunky stem? Yep, you'll be glad you have them. Same goes for the quick links.
I also carry a small handful of zip ties which, like the duct tape, are super useful and can be used in highly creative ways. All the cables on my bike are held on with zip ties as well as my cadence meter. So having these on hand in case any of them break is pretty critical.
After having my derailleur hanger get seriously bent on a ride, I ordered a spare hanger and carry it in my KEG at all times. I've heard that hangers can break with the right impact so having it along with a multitool can help get you out of a real bind. Since it's a relatively small part it really doesn't hurt to carry one.
Because I have a few components that are mounted using GoPro thumb screws, I carry a spare thumb screw in case one breaks. I actually had one get stripped out once and another where the handle broke. Sucked cause I couldn't put the component back onto my bike and had to do without it. So, yeah, always carry a spare.
Recently, I added a couple of spare CR2032 batteries to my KEG. Three of the electronics I use with my bike computer are all powered by CR2032 batteries. The problem is that none of them show the battery level. Because they last so long, I only check the batteries a couple of times a year. They're kind of hard to get into so I figure why not just carry a couple of spares just in case one of them decides to drop out mid-ride.
Conclusion
There you have it! A complete breakdown of the stuff I carry in my saddle bag and storage bottle.
Truth be told, I probably carry too much stuff. I sometimes have problems with my saddle bag unhooking because of the sheer amount that's in the pockets. It works for now though. I might consider a different solution that allows me to carry things a little more comfortably in the same space.
I absolutely love the KEG storage bottle though. I experimented with a number of solutions but virtually all of them were either a little too big or not the right form factor. The problem with storage bottles being stored under the down tube is that you have to gauge whether your front tire will hit it. Not only that, hitting mud or water will likely splash up onto the storage bottle. Is it water proof? Easy to clean? If not, that's trouble waiting to happen.
Hopefully, this gives you ideas on what to put in your own saddle bag. It might even convince you to get a storage bottle as well. Either way, my hope is that you'll think through what your needs are and equip yourself appropriately. My needs are not your needs; everybody is different. If your rides are road-only and fairly minimal then you probably don't have to go quite so overboard. Just be smart and pack only what you think you need. When a moment of crisis arrives and something goes wrong, you'll be glad you did.