This past year, I did a post that talked about the current state of ergonomic gravel handlebars, the keyword being ergonomic. Since then a lot has changed. My own experience with gravel riding has changed. I was focused primarily on ergonomics when, in reality, my focus should have been more on usability.
The focus of this blog post is to highlight the changes in my thought process when it comes to gravel-oriented handlebar design. Gravel riding in general has boomed quite a bit. As such, there has been some modest changes to the approach of gravel-oriented handlebars on the market.
Some of the handlebars from some of the companies I looked at previously have remain unchanged. For instance, the Ritchey ErgoMax and VentureMax bars remain the same. The same applies to 3T, whose SuperErgo and SuperGhiaia remain unchanged with nothing new added.
But, just within the 7-8 months since I wrote that blog post, a handful of new gravel-oriented handlebars have hit the market. Plus, there's promise of even more exciting innovations down the road.
This is by no means an exhaustive look. There are a lot of other bars on the market. The bars I looked at are just the ones I happened to find interesting. Let's take a look.
Coefficient Wave Handlebar
I reviewed the Coefficient Wave handlebar back in June of 2019. This isn't a new bar but it's worth mentioning again simply on account of the unique design. The Wave is a super gnarly bar with a very unique shape of the tops that makes for a very comfortable position for your hands. If you ride in the tops quite a bit then this bar is for you! Straight-up, this is an amazing handlebar!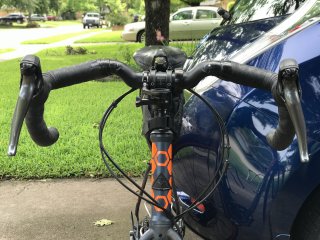 Honestly, I'd love to see a more gravel-oriented Wave bar, something with 24 degrees of flare and 12 degrees of outsweep...basically a super ergonomic version of the Salsa Cowchipper. Plus, it would be nice if wider versions were available. For gravel rides, being able to flare your elbows out more is a plus. With the levers angled in a little more, having a 46cm or even a 48cm bar would make up for the bit of narrowing in the hoods. This would give it more of a straight-bar feel while still retaining the flexibility of a dropbar. With the rise in gravel, I think having a gravel version of the Wave would help.
Salsa Cowchipper
The handlebar that's on my bike now is currently my favorite. It's a Salsa Cowchipper Deluxe which is designed more like the Salsa Cowbell but with more flare and outsweep but not as much as the Salsa Woodchipper.
I rode on a Salsa Cowbell Deluxe for a little bit early in 2019. I liked it and probably would have stuck with it had I not discovered the Coefficient Wave. After riding on the Wave a while I wanted to experiment and try out something with more flare and outsweep to see how much it would change the handling of my bike.
After riding on it, the Cowchipper to me is the benchmark for which all other alloy gravel bars are compared to. It's a pretty standard alloy bar with a 24 degree flare angle and 12 degrees of outsweep. By comparison, the Woodchipper has a 25 degree flare angle and 38 degrees of outsweep. The Cowbell I rode on before only had 12 degrees of flare with no outsweep.
The balance of flare and outsweep on the Cowchipper is what did it for me. It's not too much but just enough to give you a different ride feel. I noticed right away just how much more stable the bar felt in the drops while going downhill on a rough gravel road. The handling was super smooth but still controllable which is a plus when you're doing 20+ mph down a gravel road!
Because of the flare, you end up having to angle in the hoods at roughly nthe same 12 degree angle. The upside is that angling in the hoods gave me a hand position that felt more natural. However, there is a downside to angling in the hoods. One of the things I learned from doing this is that the angled in hoods causes you to lose a couple of centimeters of width in the hoods. As such, I ended up switching to a 46cm bar so my hands would go out a little further to compensate, which is good since it means more stability.
Overall, I've been pretty happy with this bar. It's great for both gravel and road riding. Not too wide but enough to be in that sweet spot that works for all kinds of riding.
Ironically, just weeks after I upgraded my Cowchipper from a 44cm to a 46cm, Salsa decides to release even wider versions. Go figure!
Enve G Series Gravel Handlebar
The Enve G Series handlebar isn't all that new. I read reviews on it as early as May 2019. This was the one I compared the most with the Coefficient Wave bar. They're both carbon bars and both attempt to do something a bit different than a traditional handlebar. They're also both a bit pricey.
What sets the Enve G Series apart from other gravel handlebars is the shape. The way it flares out is actually due to two separate bends rather than just one. The tops are made to be more ergonomic with a nice curvature near the bends. This is one of the few full carbon gravel handlebars I've seen that comes in both 46cm and 48cm widths. Definitely an interesting bar but at $350 it's still a bit too pricey for my taste.
PRO Discover Handlebar Line
A little earlier this year, Shimano PRO announced the Pro Discover Carbon handlebar to add to their Discover line. It's a pretty standard handlebar with 20-degrees of flare and a little bit of backsweep. Like the Enve G Series and just about every other carbon bar, it does have internal routing for DI2 cables.
If the carbon version of the Discover isn't your bag, PRO does have the Big Flare and Medium Flare versions. However, like the Carbon, the max width available is 44cm.
Zipp XPLR Gravel Handlebars
Zipp's new gravel bar is pretty much an altered Service Course 70 bar. The new XPLR bar comes in two varieties: the Service Course SL-70 XPLR and the Service Course 70 XPLR. The main difference between the two is that the SL-70 is made with a higher grade alloy making it lighter (and more expensive).
For the price, this looks to be a pretty darn good bar. With 5 degrees flare and 11 degrees of outsweep, it appears to have just the right balance. Plus, they added a little backsweep for a bit more comfortable hand position while on the tops. With a max 46cm width available, I damn near bought one of these myself. Unfortunately, they weren't available yet at the time I purchased my current handlebar.
Curve Cycling Walmer Bar
I recently talked about the Curve Cycling Walmer Bar. It's a pretty nutty bar at first glance.
However, there does appear to be some practical applications for it. If the bike you're building has a pretty steep steerer angle with a short stem then you'll likely need a wider bar to offset it. That's where something like a Walmer bar comes in. I'd love to ride with one just to see what a wide-ass bar like this feels like.
PNW Coast
One of the other bars that was released earlier this year was the PNW Coast handlebar. Available in just two sizes (48cm and 52cm), it's another bar that shares a lot of the same features as the Salsa Woodchipper.
There are some differences though. It has a little less reach (65mm), less of a drop (105mm), and a little less flare (20 degrees). It looks like there's a little bit of an outsweep with this bar but I'm not sure how it really compares to the Woodchipper.
Conclusion
I also looked at Whiskey Part Co which sells similar bars to Salsa. Your mileage may vary but, depending on what you're looking for, Whiskey sells some pretty solid stuff as well.
All of the various gravel-related handlebars above help explain why Salsa decided to offer up wider versions of the Woodchipper. "Wider is better" seems to be the trend. But is a wider bar really better for you? It depends.
Honestly, I think it really boils down to what position you feel more comfortable in. All the various angles and measurements have an impact on your position so it's a matter of figuring out what works best for you.
Fortunately, the cost of many standard alloy bars are relatively inexpensive, usually running around $40-$50. If you're lucky, you might even have a bike shop that can lend you a bar or two to try out.
Personally, I went through a few alloy bars till I found what worked for me. Once you dial it in, you'll be able to look at other bars and get somewhat of an idea on how the various measurements will impact your position and ride feel. That way you don't have to keep buying a bunch of bars to find a good fit.
Best advice is to just experiment, find a few bars to ride on, allow for a bit of experimentation, and find what works and doesn't work. Doing so will give you a better idea on how you can improve your ride. A good set of handlebars is one way to truly upgrade the experience of your ride.