When I heard about this, I wasn't sure what to think. "A SPD Sandal? Really?", I thought. But, like Jeff Goldblum's Malcolm said in Jurassic Park,"There it is.".
According to Shimano, the SD-501A SPD Sandal is a throwback to a product they release in 2000. And apparently it has a bit of a cult status.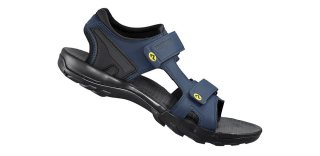 Priced at $130, the SD-501A sandals are exactly what you'd expect: a durable two-strap sandal with an SPD compatible semi-rigid sole. They certainly look comfortable enough but how they perform is anyone's guess.
I couldn't help wondering about why anyone would want these.
On one hand, it kind of makes sense. If you have a bike that you ride with SPD pedals and it's versatile enough to ride casually then, yeah, these sandals are a treat. I definitely take my fair share of casual rides on my bike and have to resort to throwing on my bike shoes to do it. For hot summer rides, having these sandals would make those rides ever more comfortable. I get it.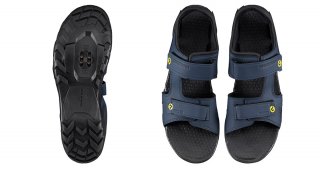 But on the other hand, I don't see sandals being good for much more than casual rides. Wouldn't it make more sense to just have a bike with flat pedals that you can use for casual rides? At that point, you don't need a $130 pair of sandals when an even cheaper pair will do. What's crazy is that, for almost about the same price as these sandals, you can practically get a really cheap bike that would work quite well for casual rides.
To each their own though. It's an interesting product to say the least. If a pair of SPD sandals sounds really cool to you, no doubt these will appeal to you.