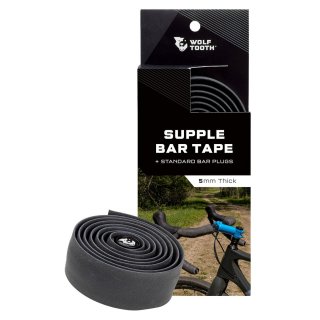 This week, I noticed some announcements of the new Supple Bar Tape by Wolf Tooth Components. I'm no stranger to thick, cushy bar tape so when I read that this stuff was 40mm wide and 5mm thick I definitely took notice.
Wolf Tooth appears to be marketing this towards gravel and trail riding. They put a strong emphasis on the thickness and comfort that this bar tape brings to the table. With thicker bar tape, vibration dampening is something that virtually every review talks about. Looks like this bar tape is aiming to take it up a notch.
Supple Bar Tape is made of 100% silicone foam, a soft yet tacky material that Wolf Tooth says is more comfortable than standard bar tape. Other than cork, leather, and cloth, most bar tape is made out some sort of synthetic foam, composite, and/or imitation leather. Silicone bar tape is kind of the up and coming new kid on the block so it's a space ripe for innovation.
There are a number of other brands selling bar tape made out of silicone. ESI Grips RCT Wrap comes to mind. I think what differentiates the Supple Bar Tape from others is the foam part. Seems all the other silicone bar tape I've seen is made from solid silicone rather than a foam. That aspect right there might explain the extra thickness while keeping the weight down. Plus, a foam would feel more supple than a solid piece of silicone for sure.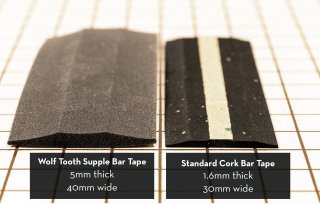 Wolf Tooth makes a direct comparison between the Supple Bar Tape and standard cork tape that's 1.6mm thick. Honestly, I think this is an unfair comparison. I think if you're gonna compare them to something it should be bar tape that is trying to solve the same problem. For that, you have to compare them to more thicker products that are at least 3mm thick.
Over the past year, my two go-to's for bar tape have been Fizik Tempo Bondcush Classic and Supacaz Super Sticky Kush Classic, the latter of which I'm currently using on my bike. Both use a composite foam material with a more durable top layer. The Supacaz has more of a leatherette quality to it and is a bit more tacky than the Fizik. Both are pretty representative 3mm bar tape that is geared towards endurance cycling.
The main thing about the Fizik and Supacaz bar tape is that it's not designed to stretch. When installing, you have to make sure that you don't really stretch it. That's not the case with the Wolf Tooth bar tape. In fact, they recommend stretching it to the point where it adds a few inches for every 10 inches of bar tape. It's made to stretch and stretch well which should make installation an absolute breeze.
So then the question I have is how thick will the Supple Bar Tape actually be when stretched out? Definitely won't be 5mm when stretched. If the Fizik and Supacaz stay at 3mm then I would suspect this bar tape would be somewhere in the ballpark of 3 1/2mm to 4mm when installed. Still, even if it ends up around 3mm, with the added width and overlap requirements, that's still a pretty darn good thickness.
Once my Supacaz start showing some wear, I'll likely switch to this bar tape and give it a try. I've had several people recommend silicone-based bar tape so I'm definitely eager to try out the Supple Bar Tape. Looks to be a pretty darn good product at first glance.