A couple of weekends ago, I took a trip down to the Trinity Levee here in Dallas for my first big gravel ride of the year. This also turned out to be the first time trying out the new 11-40T cassette I installed on my 700c gravel wheelset.
I talked about overloading a Shimano GRX rear derailleur in a post late last year. To sum it up, the max that Shimano claims for the GRX RX810 rear derailleur is a 34T cassette. However, as others have learned, you can actually go a bit higher. In fact, you can run with a 40T cassette (with a few caveats though). I posted a video from Gravel Cyclist about this but, heck, here it is again:
So, I installed a Shimano XT M8000 cassette, tuned up the rear derailleur with it, and tossed the wheelset back on the racks. It was November when I installed it and I just never got around to getting a good gravel ride in to test it.
Now that it's March and quite a bit warmer, I got out onto the Trinity Levee to give the 40T cassette a whirl.
Most of the gravel on the Trinity Levee is pretty flat. It's not hilly at all. However, there are a number of areas where you have to go up the levee and back down again, most of which are pure gravel. Many of these inclines/declines are pretty steep with some rough gravel. As such, they're perfect for testing out different gravel tires as well as gear ratios for climbing.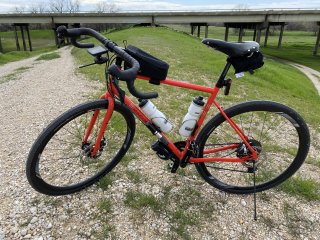 I went down into the "valley" near the Trinity river and back up a few times during my ride. The couple of times I went back up, I made sure to use the lowest gear to get a feel for the new 40T cog. Definitely could tell a difference. Climbing was a bit easier for sure compared to a 34T cog.

Now, to get some perspective, we have to think about the gear ratios a bit.
When I first started riding gravel, I was using the stock 50/34T crankset with an 8-speed 11-32T cassette that came on my bike. In the lowest gear, that equated to a 1.06 gear ratio. That's a bit higher than a 1-to-1 gear ratio. I could make the climbs but, man, were my legs super freaking tired! Those short burst of power were draining at best.
When I upgraded to the GRX groupset, I ended up with a 48/31T crankset and a 11-speed 11-34T cassette. My lowest gear now ended up having a 0.91 gear ratio. Now I'm under a 1-to-1 ratio. Those same climbs were easier for sure. Definitely an improvement.
However, what I found was that, while short climbs were ok, sustained climbs were quite brutal. So when I learned that I could overload the rear derailleur I jumped right on it. Going from a 34T to a 40T cog results in a 0.78 ratio. Doesn't sound like a lot but that's easily a 13% increase in climbing power for the same amount of effort, which is enough to help me immensely with sustained climbs.
Overall, I'm super pleased with the fact that I can throw a 40T cassette on my bike. That adds an incredible amount of flexibility to my rides. For harder gravel rides with lots of hills, I seriously doubt I'll go back to anything less that a 40T cassette. Bazinga!