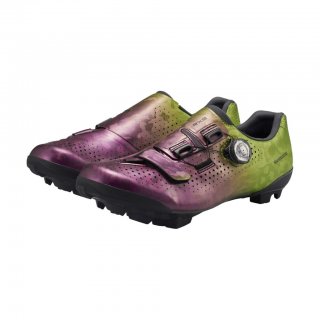 If you're hoping for gravel shoes that are a bit more colorful, you're in luck! Along with a SPD sandal, Shimano releases yet another rather odd but interesting release: a green/purple version of their RX8 Gravel Racing shoes they call Cactus Berry.
Just like the sandals, I'm not sure how I feel about this one.
Like the Bontrager GR2 gravel shoes, the RX8's really aren't all that different than the Shimano XC5 mountain bike shoes. I feel like Shimano made a few slight updates to a mountain bike shoe and slapped the GRX name on them just so they could have an official gravel shoe.

But...look at that color! Similar to what Robin Williams said in Good Morning Vietnam, "If you're going to ride...clash!" Add a tie-dye shirt and some cutoff jeans and you're set! :P