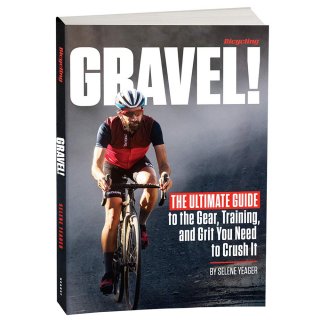 Gravel is a cycling category that is still very much new but is absolutely exploding in popularity. I can't tell you just how popular it's becoming. Heck, I just learned about it earlier this year and, thanks to some good fortune, already had a bike that could easily be retrofitted for gravel riding. I personally still have a lot to learn about gravel riding. So when I saw Selene Yeager's book, Gravel: The Ultimate Guide to the Gear, Training, and Grit You Need to Crush It, advertised on the Bicycling Magazine website I took the bait and bought it.
I've seen other books by Selene Yeager and have even checked out a few at my local library. Bike Your Butt Off! was one of them, which provided me with a few good tips. I've also read quite a few articles she's written on various cycling websites.

Her writing style lends itself to being succinct while still being highly informative. She also has a tone that is warm and inclusive. She knows that many of her readers are Joe cyclists like myself, and it shows. It's clear she enjoys sharing her knowledge and experience with others in a way that isn't condescending. She makes things relatable which is always appreciated.
Gravel! though is a pretty ambitious book to write in my opinion. Gravel riding is still an ever-changing category so trying to do a whole book on it that covers as much ground as Selene does seem pretty daunting. But Selene is aware of this and the stories she writes in her book allude to this very thing.
Selene covers a lot of ground with everything from what gravel riding is all about, the mindset, what you can expect from different kinds of gravel rides, what you need to get started, and how to find gravel rides in your area. In terms of getting started, she talks about the bike and gear you might need to ride gravel.
Beyond that, she goes further by telling you what you need to do to handle gravel both physically and mentally. Gravel certainly places more physical demands than road riding so its good the she's being pretty comprehensive about it. Everything from tips and tricks for riding on gravel, strength training, mental preparedness, and nutrition. She even gives you a pretty simple but solid bike training plan that will help you boost your fitness level up to tackle some of the harder gravel rides.
The chapter on Grit! is especially interesting. I tend to think that Selene is known for the attitude she brings to cycling. So it's no surprise that she would have a chapter devoted to overcoming your inner demons to help push yourself through a really tough ride.
The book was a pretty easy and quick read for me. I was nodding my head a lot because, honestly, much of what I read I felt I already knew. Still, it was good to read the opinions of a professional cyclist and confirm that what I know and feel about gravel riding is valid.
Plus, like I said, Selene's style is succinct so she doesn't waste a lot of time going into any given topic in crazy detail. Some topics she kind of glazes over but with just enough information to get you going. After all, there are likely plenty of other books and websites that can give you more detail on things if needed. Gravel! is but one book but there are many others out there that cover all its topics in greater detail.
I did get some good ideas though, especially when it came to equipping my bike. For instance, the book make me get a serious bug up my butt to improve the storage on my bike. On the last big gravel ride I did, I ended up damaging a pullover due to a lack of storage on my bike. I ended up getting a rear rack and rack bag with panniers to help with that sort of thing. Also, based on tips by Selene, I added some duct tape and zip ties to my emergency repair kit.
It's little things like this that makes the book worthwhile even to those who are not super new to gravel riding but feel like they have a bit more to learn. All in all, it's a fantastic book that I highly recommend to anyone interested in gravel riding. Whether you're curious about it or just got into gravel riding no doubt you'll find some useful information that will point you in the right direction.
Catch Selene Yeager on The Gravel Ride Podcast where she talks about her book and more!