Cycling gloves are a funny thing. It's probably one of the most overlooked yet personal accessories there is. Cyclists get pretty personal about saddles, handlebar tape, and shoes...but gloves? I dunno. Seems like gloves are kind of an afterthought.
For me though, gloves have become one of those things that I seem to think about every time I turn around. I've been through a few different sets of gloves and haven't really found the right thing for me just yet. Being that I ride both road and gravel having a set of gloves that is good for both is a bit of a challenge.
The problem that I have is that I'm prone to hand numbness. I've tried different handlebars, bar tape, various bike fit tweaks, and of course different gloves. Various things have helped quite a bit but I keep going back to my gloves. I just keep feeling like I'm missing something.
Do my gloves have enough padding? Maybe it's too much padding? Would finger-less work better? Oh, wait, what if I crash? Maybe full finger gloves are better! Lots of questions rolling through my head for sure.
So I started my quest for the ultimate pair of gravel riding gloves. Will I find the right one for me?
Specialized Body Geometry Grail Long Finger Gloves
The Specialized Grail gloves weren't the first gloves I've bought but they were certainly the first I purchased with gravel riding in mind. I purchased a pair of blue ones late last year after reading a few reviews on how well they help with alleviating hand numbness.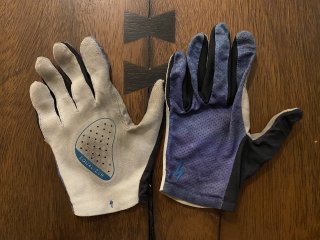 I had tried various padded gloves from all the different major brands but never found anything that fit the bill. The problem always seemed to be that the padding was never in the right places. It's like the padding was everywhere but the places you'd expect it to be, which is really annoying when you're riding and your bar is constantly hitting in an area where no padding exists.
With the Grail, there really isn't any padding at all. It's just a synthetic leather palm with breathable mesh on top. However, what distinguishes the Grail from others is the gel insert in the palm. The theory is that the shape and placement of this gel insert helps even out the pressure on the hand and thus reduce numbness.
I'll admit that the blue pair I purchased lasted a little while. However, they did wear quite a bit over time. There is no strap around the wrist so the elastic mesh around the top is what keeps the glove firm around the wrist. The elastic did stretch a bit over time around the wrist making the overall glove feel a little loose. They also tend to get a little slippery on the inside of the glove when my hands get sweaty. Other than that, the gloves have held up and have worked quite well.
Because I had a pretty good experience with my blue pair, I decided to go ahead and get another pair and use my blue ones as spares. I ordered a black pair and used them a few times. Unfortunately, the last long ride I did with them didn't turn out so well.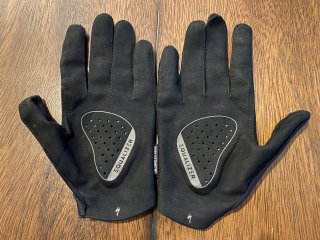 The gel inserts slipped on both gloves resulting in a prominent bulge near the bottom of each glove. Definitely a sign that the production quality has gone down a bit with these gloves. Sucks cause I actually liked them. Oh well!
Because of the defect, I decided to look for a set that was simpler and not prone to this kind of defect. Plus, it would be nice to see if there's a glove that is potentially even better than the Grail.
Bontrager Circuit Gloves
Prior to upgrading my Grail gloves, I had purchased a pair of fingerless gloves at my local bike shop. I noticed the Bontrager Circuit gloves sitting on the rack and tried them on. The thing that was interesting to see with these is that, unlike other Bontrager padded gloves, the padding is hidden inside the glove rather than each piece being prominent on the outside. This seemed like a better design for padded gloves over the ones with bulging padded pieced protruding on the outside. I tried it on and instantly decided to buy them and try them out.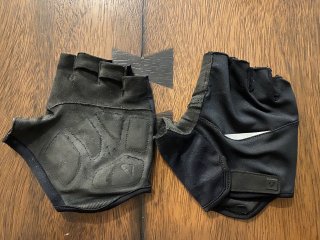 I rode with these on quite a few rides including a big gravel ride in Mueller, Texas. They have held up quite nice and the padding works pretty well. Padding placement is just right and seems to help alleviate pressure whether I'm in the drops, hoods, or tops.
Only thing I don't like about them is that they tend to dig into the webbing of my hands after a while. This got me thinking about the possibility of getting the full finger version of the Circuit glove. I was darn close to ordering them but, after a bit of research, decided to hold off. The Circuit is still on my short list...at least until all other options fail.
Fox Ranger Gel Gloves
After the debacle with the black Grail gloves, I did some research and found that many gravel riders seem to like various MTB gloves. Which makes sense considering most MTB gloves provide full hand protection which is a necessity for gravel riding.
One of the most popular brands is Fox and, while at the bike shop, I picked up the Fox Ranger Gel gloves. Honestly, I don't know why I bought them. I tried them on and, while they seemed to fit ok, I should have listened more to my inner voice and just left them on the rack.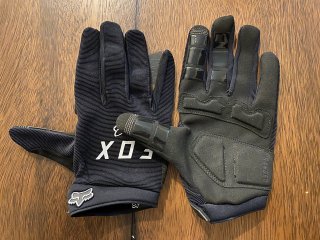 They felt stiff with very little give. In fact, I could see impressions on my hands after taking them off even wearing them for just a few minutes. The material at the wrists, especially the left one, felt like it was rubbing at my wrist near the bottom of my thumb. I could feel the seams at the first knuckle of my thumb. The padding in the palm felt inadequate when riding in the hoods. Clearly these are made for straight bars.
So, it was a no-go for the Ranger Gel gloves. I'm sure other Fox gloves without any padding might work but, honestly, my impression of the Ranger gloves pretty much told me what I needed to know: Fox gloves are almost definitely designed for MTB only.
With virtually any padded glove, there's a big difference between those designed for mountain bikes and those for drop bar bikes. As such, it would likely be better to find a pair that is more neutral, provides ample protection for my hands, but still breathable for warmer temperatures. Question is: Will I find a glove that fits the bill?
Handske Cycling Gloves
Handske is a company I stumbled on while researching various gloves that others have recommended for gravel riding. The Handske cycling gloves turned out to be a more positive experience than I expected. Taking a complete 180 and going with a glove with zero padding, I expected the experience to fall completely flat. That turned out to not be the case which, because of my experience with the Specialized Grail gloves, it makes sense.
Straight-up I can tell you one thing about Handske gloves: You have to be very careful with the sizing of these gloves. Handske's glove measuring page details the main things to consider when sizing their gloves.
I initially thought I needed a large (LG) and purchased the Sunset gloves. But after just one good ride it quickly became apparent that they were a bit too small. My thumb and index fingers dug into the ends of the gloves when in the hoods causing a bit of numbness. Along with that, the area of the glove in the middle of the palm tended to rub a little making the gloves feel a tad uncomfortable. Overall, the gloves felt snug...maybe a little too snug.
Fortunately, Handske had a great sale going on so I didn't really feel bad about ordering another pair. This time I ordered the Sky Razzle design in an extra large (XL). Boy, what a difference that made!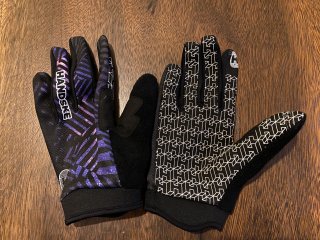 I apparently have pretty long fingers so an XL felt better with the extra length in the fingers and thumb. That extra room felt better especially in the webbing between my index and thumb. When I'm in the hoods, it doesn't feel like the gloves are bottoming out.
Going up to an extra size up, I did notice that the gloves were a little more roomier. While not as form fitting as the large, they were still snug. The wrists weren't as snug but snug enough. I actually prefer it to be just a little on the lose side on the wrists. Doesn't feel like my hands aren't being constricted which, with the large size, might have actually contributed to the numbness.
Overall, the Handske gloves are quite comfortable and super functional. I didn't get any numbness at all on my ride which is of course a very good thing. Turns out that padding isn't really my problem. Just needed a solid set of gloves that provide the right amount of comfort and support. For now, it looks like the Handske gloves are a keeper!
Louis Garneau Men's Gel Ex Pro Gloves
All of the gloves I've mentioned are primarily for summer riding. Being that I haven't mentioned winter yet, I figure I'd at least mention the gloves I use for winter. This is a topic for a whole different post so, being that I haven't researched it enough, I'm just going to talk about the one pair I have.
Unlike my summer gloves, I didn't actually spend a lot of time picking out winter gloves. I just went into the bike shop and picked out a pair that were comfortable and would keep my hands warm.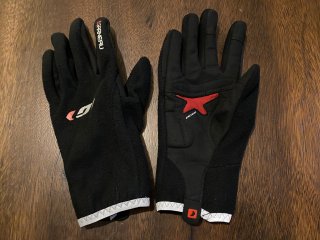 I ended up picking up a pair of Garneau Gel Ex Pro gloves. They're fairly minimalistic but offer all the basic stuff you'd want in a pair of warm gloves. Full coverage with extra coverage up the wrists. They're snug but not too snug and flexible enough to offer full range of motion of your hands and wrists. There's a bit of padding on the palms but not so much as to cause a lack of connection with the handlebar.
Unlike other winter gloves I've seen these don't have a solid surface for wind protection. Instead, it's more of a fleece material that Garneau claims is wind proof while still offering warmth. That's certainly been the case. I've never had a problem on any cold ride keeping my hands warm even with cold air blowing over them.
The only problem I've had with them is keeping moisture from building up on the inside. There were a few rides where my hands got a little too warm and started to sweat. I made the big mistake in taking them off on a ride break. The sweat inside got cold and make my hands numb after putting them back on. So, yeah, the gloves definitely keep your hands warm...sometimes too much!
Conclusion
Here's the thing. Everyone's hands are different. What works for me might not work for you. Maybe your hands simply need a bit of padding. Maybe you feel more comfortable with a LOT of padding. Or, like me, maybe you'll find that a simple, minimalistic pair of gloves works the best. That's what I'm hoping you'll walk away with after reading this. Like me, you'll explore what works and what doesn't work and arrive at the perfect pair of gloves.