Prior to getting my current bike, a 2018 Marin Nicasio road bike, I rode a hybrid fitness bike. It too was a Marin, a Marin Larkspur CS1 to be exactly. Great bike and enjoyed the hell out of riding it. But after participating in a 20-mile bike riding event, it quickly became clear to me that I needed a better bike. The reason was that my goals changed. I wanted to complete a 100-mile century ride. As such, I needed a road bike that would enable me to take on this endurance challeng. Problem was that I needed to do it on a minimal budget. Enter the Marin Nicasio!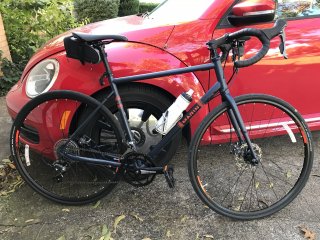 Funny story about the purchase of my bike. I had purchased the Marin Larkspur at my local Performance Bicycles shop. So, when the idea came to buy another bike, I was already looking on the Performance Bicycles website for ideas. One bike stood out among all the rest: the Marin Nicasio. This is a bike that retails for around $750. Performance Bicycles had it listed for $699.99 with an additional 20% off, effectively making the bike $559.99. That's a hell of a deal, right! Oh, it gets better!
Upon purchasing my bike, I held off on buying Performance Bicycle's Performance Plan, which gives you a great deal on a couple of full tune-ups, free tire/tube repairs, and adjustments. The reason is that they offer a point system where you can exchange points for purchases. The points on the bike more or less would pay for the Performance Plan. However, I decided to maintain the bike myself and opted to exchange the points towards the purchase of a fluid trainer. I'm glad I did! Two weeks later, it was announced that Performance Bicycles would be declaring bankruptcy and my bike shop would be closing down.
Around this time, I noticed on the Performance Bicycles website that I had a ton more points to use so...I used them to purchase a bunch of other things including various tools and such. Then, after that purchase, I got even more points. So I bought some more stuff I needed. It was as if some snafu existed in the system that kept allowing me to gain more points with each purchase I made even including purchase made with points. I earned more points even when I was purchasing with points. No wonder they went bankrupt! :P
So, now that I had a stock road bike, what next? Modifications!!
First thing I changed was the saddle. I had a Brooks Flyer saddle that I was pretty happy with but with this bike I just didn't think the springs were a good idea. So, after a bit of research I settled on a Brooks B17 Imperial saddle. For a road bike, the middle helps alleviate pressure and makes for a more comfortable ride.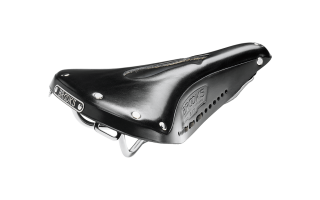 Leather saddles aren't for everyone though. They do require a little bit of maintenance and care. I researched the hell out of saddles and just couldn't settle on anything that felt right. But after trying a Brooks and allowing it to break in a bit, I was sold. That's the key...ya gotta keep riding on it and let your butt wear it in.
At first, I rode with the default flat pedals but, after about a month, I decided to give clipless pedals a try. I started off with some Shimano SPD's but switched to some SPD-SL's based on a recommendation from the guy who helped me with my bike fit. Apparently I needed a shim in my right shoe and standard two-bold SPD's just don't cut it for this. Long story short, I switched back to the Shimano SPD's after a failed attempt to switch to Speedball pedals. I now ride on Shimano PD-M530 pedals which are double-sided and work well for both road and gravel.
The next modification I made was the handlebars. Now, I'll be going over in more detail about this so I'll just be summarizing the change up. The stock handlebars were ok but I kept feeling like the drops weren't quite right. My hand position was always off never felt comfortable. I did like the 12-degree flare though. I looked at a bunch of different ones and even bought the Origin8 Flare II Ergo handlebars. They were better than the stock Marin's but I grew to not like the tops as much. Ended up switching to the Salsa Cowbell Deluxe handlebars. These still had the 12-degree flare but the drops felt better.
Early on, with the Origin8 handlebars, I switched out the stem as part of a bike fit. I knew I needed to bring the handlebars up a bit so that they were more level with the saddles so I started off with an adjustable stem to see just how much I needed to bring them up. The bike fit technician switched it out for me during my initial bike fit. Ended up with a 105mm Bontrager Elite Blendr stem with a 40-degree rise. That puts it at just the right height and reach for a comfortable ride.
Along with that, I added some Fiks reflective wheel stripes and stickers. I was going on a few night-time holiday rides during December so I needed to make sure that I had a decent amount of reflectivity. The Fiks are just awesome! Makes me light up like a Tron light cycle! Plus, it gives my bike a high degree of personality.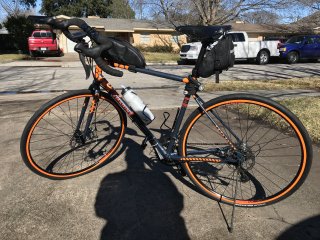 The bike came with Schwalbe Spicer tires which ride well enough. But after reading about the Continental Grand Prix 5000 tires, I decided to pick up a set and give them a try. I got the widest possible which is 32mm. They definitely ride better than the Schwalbe's and have better road resistance but one spill with these tires made me rethink the use of them on the trails I ride. They're great tires and I'll definitely keep riding on them for group rides and such where speed is a factor. But I will never ride them anywhere but on open roads. They're so slick that when I hit a muddy area, mud caked on the tires which caused my back tire to slip right out from under me in a turn. Not cool.
The funny thing about this bike is that it can accept up to a 47mm tire. Along with that, the geometry allows for a super amount of flexibility in terms of the kind of riding I can do with it. With gravel bikes trending, I figure it was time to consider switching things up with the wheels and tires and give gravel riding a try.
After a bit of research, I decided to go with what WTB calls a Road-Plus tire, specifically the WTB Horizon tires, a 650b 47mm tire that can be used on both road and gravel. Since I didn't have any 650b wheels, I picked up a set of FSA NS 27.5" wheels. So far I've been super happy with this wheel setup. It has improved the comfort of my rides considerably and gives me an added level of security when riding on different types of terrain (especially those damn trails my Continentals failed on!).
Topping off my modifications, I added a Thomson Elite seatpost. The stock seatpost would probably do but the Thomson has a unique elliptical extruded body that gives it a different level of flex compared to a standard alloy seatpost. I think it does add a bit to the comfort for long rides. Should at least help knock down some of the road vibrations better than the stock one.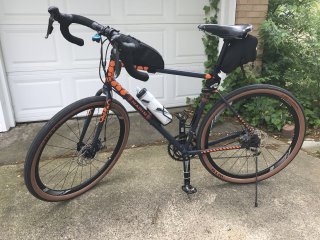 So, that's where I'm at with my bike right now. I've got two wheelset which give me the ability to switch my bike back and forth between a standard road bike and a gravel bike. Soon I'll be switching up the handlebars again for a set that are geared more towards endurance/gravel riding (more about this in a future post).
Only other thing I want to do is switch the groupset to something like a Shimano 105 groupset. I'm getting used to the compact chainrings (50/32) and 8-speed cassette (11-32t) but I'm really aching to step it up to an 11-speed cassette with a bit higher upper cog (11-34t), which should help a bit with steeper climbs and rough gravel. Along with that I'll be upgrading to hydraulic brakes instead of the mechanical disc brakes I have now, which will improve the feel of the brakes considerably.
Once I'm finished with the handlebars and groupset, that should more or less make my bike complete...at least until the next cool new thing comes out that makes me itch. In the meantime...off I go on my next adventure; gravel, road, wherever my next route takes me! :)