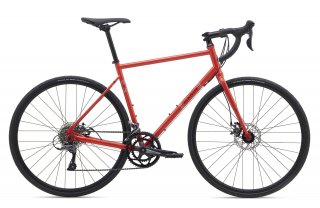 Being that I've owned my Nicasio for over a year now, it's probably high time I talk about it and give a solid review of this bike. I'm going to be honest, the Marin Nicasio is my first road bike so I don't have anything to compare it to. All I can express is how this bike feels for me and why I like it. If you're like me and looking to buy your first road bike but don't want to spend too much money on one, maybe a good entry-level bike like the Nicasio might be right up your alley. While it's a cheap road bike, as you'll see in this review, it's also an extremely versatile one.
In this review, I'll talk a bit about my initial experiences with the 2018 version of the Nicasio. As you'll learn, the current 2019-2020 version of the Nicasio is more or less the same bike but with a few small little changes. Later, I'll talk about how far you go in upgrading the Nicasio, even going so far as a full rebuild.
But, in case you don't have time to read, here's the "too long, didn't read" skinny...
TL;DR
Solid entry-level budget road bike
Great ride quality
Steel frame so, yeah, a little on the heavy side
Highly versatile thanks to wide tire clearance
Doesn't offer modern standards such as thru-axles or flat-mount brakes
Easy to upgrade but might require a few workarounds
Buying the Marin Nicasio
In November 2018, I made what would be a very fortuitous purchase: a Marin Nicasio road bike. Because of the sheer number of customizations I made to it, I took to calling it a Marin Nicasio Whatever. The reason is that I found this bike to be extremely flexible and quite versatile. By default, the bike you get is definitely more oriented for the road but, with a change in tires and/or wheelset, you can easily turn it into a very capable gravel bike.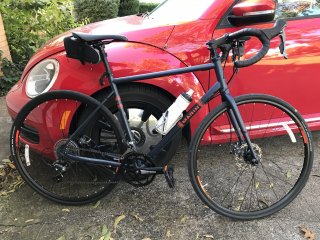 At the time, I was riding a Marin Larkspur fitness bike for the better part of a year but quickly realized that I needed a road bike. The reason was because of one goal: to complete a 100-mile century ride. No way I felt I could do that on a fitness bike. So, out with the Larkspur, in with the Nicasio.
The Nicasio Lineup
The Marin Nicasio is a CrMo steel frame road bike that is designed for endurance and all-weather riding. It's a straight-up no frills, no thrills kind of bike. This is very much an entry-level bike but does provide a lot of bang for the buck.
Marin offers four versions of the Nicasio: the standard Nicasio, Nicasio +, Nicasio 2, and Nicasio Ridge.
The baseline Nicasio provides a standard road bike with a Shimano Claris groupset. This is paired with a FSA 50/34T crankset with a SunRace 8-speed 11-34T cassette. It's equipped with disc brakes using Promax Render R mechanical calipers. This is all setup with Marin's own branded saddle and compact handlebars (with 12 degrees of flare).
In 2019, Marin refreshed the Nicasio lineup a bit, with a few differences with the standard Nicasio. First, they changed the colors available. My original Marin Nicasio was a flat metallic blue. The new lineup comes in Gloss Silver/Gold or Gloss Orange/Crimson/Ash Blue. Second, instead of the Schwalbe Spicer tires that mine came with, they're using Vee Apache Chief tires instead. Both are 700c x 30mm tires and look to be pretty similar to one another.
Around the same time, Marin also introduced a version called the Nicasio + that's more oriented towards gravel. Aside from the color, the frame is exactly the same. However, they configured it with a 1x9 groupset using a 42T crankset and a 11-46T cassette. They also configure it with WTB Horizon 650b x 47mm tires. If you're leaning more towards gravel and want a 1x setup then this is likely the better configuration to start with.
Marin also offers the Nicasio 2 and Nicasio Ridge both of which, like the Nicasio and Nicasio +, are versions that are geared for either road or gravel. The setup differs from the standard Nicasio in that it's a bit more modern: thru-axles instead of quick-release dropouts, carbon fiber forks, flat-mount hydraulic brakes, and a tapered head tube. So if you're looking for a bit more modern setup, you might want to consider a Nicasio 2 or Ridge depending on your needs.
Initial Impressions
Ever since I was a kid, I mostly rode nothing but BMX style cruisers and hybrids. I've ridden on road bikes before but never long enough to get the full experience. After buying the Marin Nicasio, riding on it for multiple days at a time opened me up to a new experience in bike riding. Along the way, I became acclimated to all the components on the bike. It's a good bike to learn from in that the components are fairly standardized and super easy to work with.
So let's start with the components first. After that, I'll talk briefly about the ride quality.
Gearing
One of the first things I noticed was the gearing. The Marin Larkspur I was riding on before had a 48/38/28T crankset matched to a 7-speed 11-34T cassette. Going from that to a 50/34T with a similarly geared 8-speed cassette was an interesting experience. The 34T chainring sits right in between the previous 38T and 28T chainrings. Yeah, I definitely didn't have the low-ass gears anymore...but I also gained a bit more in the upper range with the 50T chainring. End result was instant speed, especially with the aid of a road bike geometry.
The compact chainring set works for most people and, based on a multitude of rides, it makes sense for most riders. A standard set would be more like a 53/39T crankset, which definitely requires that you have more strength to crank it out on climbs. But with the compact set, you get much closer to a 1-to-1 ratio in the lowest gear. That makes climbing a lot easier for sure. On many of my rides with climbs, I found that the lowest gears worked reasonably well. Granted, not as easy as the Larkspur...but then again this is a bike that's not designed for that. It's designed to give you a broader range...just not as high up as a higher-end road bike. The compact crankset simply works well for most riders and, for the Nicasio, it was a good choice by Marin.
Groupset
The Shimano Claris groupset is pretty standard stuff for a bike like this. Nothing to scream home about really. Shifting was pretty smooth and the shifters and derailleurs were reliable. It's an 8x2 groupset so with 10- and 11-speed groupsets available, yeah, definitely room to improve...which I'll explain in a bit.
Brakes
The disc brakes were a completely new experience to me. Every bike I had before had standard hub brakes. The stopping power of the Promax Render R brakes is pretty good...definitely better than hub brakes. When adjusted right, they have plenty of grab to them with a fairly decent amount of modulation.
Would hydraulic brakes be a better choice for this bike? Well, yes, but that does add to the cost. I'm sure Marin went with the mechanical brakes simply to keep costs down and add value elsewhere. No doubt the stopping power of a hydraulic brake system would be better. Regardless, I found the stopping power to be just enough to do the job.
Only thing I didn't like were the pads. My understanding is that the Promax brake caliper is a generic version of an Avid BB7 brake. It uses the same type of brake pads which, based on my use, tend to wear in a weird way. The pads have a notch in them and, when they wear down a little, it seems that the notch has a tendency to scrape the rotor a bit. I can fix it by just sanding down the pad a little but, eventually, the problem comes back a few months later.
Other than that, the brakes worked fine. They can be a little tricky adjusting and aligning them but that's pretty much on par with mechanical brakes like this.
Wheels and Tires
I'm gonna be honest...the wheels that come on the Nicasio are pretty cheap. They work, yes, and they're pretty good...but the hubs on them are cheap. The hubs on mine ended up wearing out pretty quickly and I found them to be hard to clean and rebuild. But they're great starter wheels and will get you going. But, once you get rolling, consider an upgrade to your wheels.
The Schwalbe Spicer tires that came on my bike worked pretty well. In fact, I still have them hanging in my garage for future use. They provide plenty of grip on asphalt but leave a lot to be desired for terrain that's off the beaten path.
The same probably applies to the Vee Apache Chief, which strangely looks like a knockoff of a Continental Grand Prix 5000. Regardless, it's definitely a slicker tire compared to the Spicer. If you plan on riding on nothing but clean asphalt then you'll likely be pretty happy. But if you're planning on riding on more mixed terrain then you'll likely want to upgrade your tires.
Another thing to consider is that, other than the Nicasio Ridge, none of the wheels provided are tubeless ready. That's not a huge deal breaker starting out but something that might be a factor when upgrading your bike later on. This is a bike made for upgrading which, as you'll soon learn, is a blessing in disguise.
Cockpit
The stem that comes installed on the Nicasio is pretty standard fare. I upgraded my stem fairly early on so I can't exactly remember what the specs were on the stock Marin stem. I believe it was somewhere around a 90mm stem with 7-degrees of rise. For someone of average build, those measurements might work. For me though I needed to raise and pull the handlebar back a bit so I'm riding more upright. If the stem works for you then you probably won't even need to mess with it. Just keep in mind that it's one of the things you might need to switch out at a bike fitting.
The same applies to the handlebars. It's a pretty solid alloy bar with a compact drop and 7-degrees of flare, which makes being in the drops a little more comfortable. It's a great bar to start with but, like the stem, you might consider a different bar to suit your needs.
Other than that, what comes installed in the cockpit is a very solid start. Even the handlebar tape is pretty comfortable. But, like anything with a bike, you're likely to customize it to meet your needs.
Saddle
Just like the cockpit, the stock Marin branded saddle is standard fare as well. Honestly, it's nothing to scream home about. I rode on it for a while and it was just ok for me. Some riders might like it though. Everyone's butt is different though so the stock saddle might not work for you. As is the case, be prepared to upgrade relatively quickly, which was the case for me.
Ride Quality
Riding the Nicasio is an absolute pleasure. Handling is snappy enough when you need it but tends to smooth out at faster speeds. Because of its steel frame and forks, you probably won't win any races. It's definitely on the heavy side but, then again, this isn't a bike made for speed.
The Nicasio is more than capable of getting on gravel but does require the right tires. The default wheels and tires on the Nicasio just aren't capable of handling anything but road. That said, the ride quality of the stock wheels and tires feels pretty good. Tires are grippy enough to handle most asphalt roads and, at 30mm of width, they're plush enough to offer a smooth, comfortable ride.
But, when you do get out on gravel, you'll find that the ride quality is quite nice. With the right tires, the frame and forks do a good job of dampening a rough ride, which is probably what makes steel frames so appealing.
Overall, I really liked the stock Marin Nicasio when I started riding it. I learned a lot about road bikes in the short amount of time it remained a stock bike. But, as you'll soon learn, the Nicasio is a bit of a Swiss Army knife than anything. With the Nicasio, it's all about the frame!
Upgrading the Nicasio
This is where the Nicasio shines. While it offers a good setup to start with, it also provides a very solid foundation for upgrades. As you'll see, I've upgraded the hell out of my bike. In fact, there isn't a component left of the stock Nicasio I bought. Heck, when you consider the warranty exchange on the frame, there isn't a bit left of the original Nicasio. How's that for weird!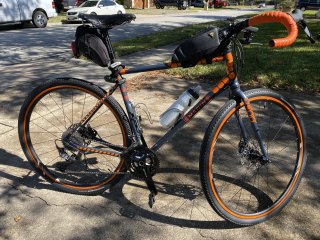 I've talked about all the upgrades I've made to my Nicasio over the course of the past year. There's not a lot you can't do with the Nicasio. Because of the standardized nature of the Nicasio frame, virtually any component can be upgraded with a few exceptions. Those exceptions don't necessarily stop you from doing things though. They just mean you have to find workarounds.
Wheel and Tire Upgrades
One of the biggest features of the bike is the large tire clearance. You can fit up to a 700c x 38mm tire or a 650b x 47mm tire. That's what makes this bike so bloody versatile. Going on a road ride? Thrown on your 700c wheels with your road tires. Heavy gravel ride? Maybe a 700c wheelset with some 38mm gravel tires or a 650b wheelset with 47mm gravel tires. Whatever you fancy, the tire clearance allows for quite a few options. I actually have four wheelsets for my bike.
One of the first ones I got was a 650b wheelset with some WTB Horizon 47mm tires. This is the wheelset I used on my first gravel rides. It was also my first tubeless setup.
Soon after, I upgraded the default Nicasio wheelset with different 700c wheelset. I stumbled on a really good deal on a 700c Mavic wheelset that was on clearance. The intention was to use the Nicasio wheelset as a dedicated wheelset for my indoor trainer. That didn't pan out so this wheelset ended up becoming the dedicated indoor trainer wheelset.
Since I was getting serious with gravel, I figure it was high time I had a serious gravel wheelset to go with it. As such, I picked up a 700c version of the same 650b wheelset I was using. For this one, I added a set of 38mm Specialized Pathfinder Pro tires.
To top it off, I also ended up getting a dedicated road wheelset that was tubeless ready. I recently upgraded it with a set of Rene Herse Barlow Pass 38mm tires. Yes, they're wide, but they roll really smooth and are plenty fast.
So, yeah, sky's the limit as they say when it comes to wheels and tires on the Nicasio. The four wheelsets I have pretty much cover just about any kind of ride I might plan on riding.
Brake Upgrades
Because the frame and fork use quick-release dropouts, you won't be able to use thru-axle wheels. Fortunately, there are adaptors that allow you to change a thru-axle wheel into one that works with quick-release frames and forks. Not a big deal really but something to consider when buying new wheels.
The brake mounts on the Nicasio use what's called an IS mount. It's a standard that's been around a while along with another standard called the post mount. Fortunately, you can convert an IS mount to post with just an adaptor. This can be seen on a stock Nicasio where the Promax Render R brakes, which are post-only, are mounted with a post-to-IS adaptor. I actually used these same adaptors to upgrade my brakes with a set of TRP Spire brakes.
The current standard you'll see a lot with most brake systems is flat mount. This can be seen with the latest Shimano GRX hydraulic brakes which are flat mount only. I ran into this issue myself and ended up having to go in a different direction. I thought I was stuck using mechanical disc brakes instead of hydraulic ones. However, as I learned later, it is possible to mount hydraulic brake calipers onto IS/post mounts. The trick is to just use a post-only hydraulic brake caliper instead of a flat-only one.
Groupset Upgrades
Upgrading the Nicasio with a new groupset is pretty straightforward but, like the brakes, there are a few caveats. In my case, I upgraded to a Shimano GRX 2x11 groupset and ran into a few issues that required a few workarounds.
As mentioned with the brakes, you can't use flat mount brakes, which means you can't use the GRX brake calipers. You can use the GRX levers but you'll need to find an IS/post mount brake caliper that is compatible with it. Fortunately, Shimano designed the GRX components to be cross compatible with most of their line. But, like me, if you choose to stick with mechanical disc brakes, you can opt to just install the Shimano 105 levers with a compatible mechanical disc brake caliper.
The rear derailleur isn't a problem but the front derailleur does require an adaptor. Like the GRX front derailleur, many front derailleurs only come as braze-on. As such, you'll have to have a braze-on adaptor to clamp onto the frame. However, you do have to be careful which adaptor you choose. In my case, I had to use a Shimano specific adaptor that allowed for the use of the support screw. Otherwise, the front derailleur wouldn't maintain position and would get out of alignment pretty fast.
The frame accepts a standardized threaded 68/70 mm shell bottom bracket so no problems there. However, you might find you need to add a spacer to the bottom bracket. The reason is that, because of the braze-on adaptor, the front derailleur goes out a little too far causing it to rub against the inner chain ring even when adjusted as far in as it can go. The solution is to add a spacer that brings the chainrings on the crank out just a little. I think mine ended up being around 1 to 2 mm. Just needed that extra bit of space to allow more freedom to adjust the front derailleur properly.
Of course, if you configure the Nicasio as a 1x bike, you won't even have to deal with the front derailleur so there is that. :P
Cockpit Upgrades
The headtube of the frame accepts a pretty standardized drop in integrated headset designed for a 1 1/8" steerer tube so no problems there. You could even switch out the steel fork for a carbon one if you prefer. And, of course, the sky is the limit on stems and handlebars as well.
Warranty Exchange On Frame
Sometime in late 2019, I noticed an oddity on my Nicasio. Apparently, there was something wrong with the cockpit. When I turned the handlebar all the way in to where the end of a drop hits the frame and then turn it all the way back the other way I noticed there was a significant difference in the height of each drop. The thing is that I had all new hardware: new headset, stem, and handlebar. This isn't a problem that should exist.
After my local bike shop investigated the issue, they concluded that it had to be some sort of weird defect with the head tube. It seemed to be just slightly off, enough to cause the handlebars to be crooked which, for a fairly wide set of handlebars, a head tube that's off by even 2 mm can turn into an even bigger difference out in the hoods and drops.
The good news is that Marin agreed to exchange the frame under warranty. The bad news is that I didn't exactly get my choice in frames. Regardless, they gave me the latest Nicasio frame in Gloss Orange/Crimson/Ash Blue. Kind of an upgrade really.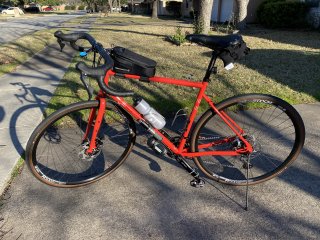 While the frames between the 2018 and 2019 Nicasio are identical in virtually every aspect, there are a few noticeable differences.
First, the paint job on the frame is glossy rather than flat. It also appears that the paint is thicker as well. The flat blue paint on my old frame had a tendency to get scratched really easily. I had to touch it up quite a bit here and there after getting hit by rocks and such. Hopefully this means that the paint will stand up to a bit more punishment without constantly being chipped away. Kinda got tired of touching up the paint.
Second, the forks have two mount points on each side instead of just one. What's interesting is that this isn't even reflected on Marin's website. Seems they just started doing this with the front forks. The neat part about this is that, with two mount points, you can add bottle cages if you want. With the previous fork, my options were limited to just rack mounts. It's a small thing but does open up a lot more possibilities.
Conclusion
So there you have it: my feelings about the Marin Nicasio as a stock bike along with how it can be upgraded. It's the only bike I own so, yeah, it's safe to say that I really like it. It's already gone through a series of upgrades and will likely go through more.
The stock Nicasio is a very solid entry-level road bike. The CrMo steel frame provides a nicely compliant ride quality with components that give you just what you need to start off riding with. For the first-time road bike owner, I don't think you can go wrong with a Nicasio.
The Nicasio is a bike that is just dying to be ridden off the beaten path. While it starts off being a road bike it really wants to be a gravel bike too. All it takes is a different set of "shoes". Guess you could say the Nicasio suffers from multiple personality syndrome.
However, knowing what I know now, would I buy it again? That's a tough question. I think if my plan was to simply ride a pre-configured bike and upgrade it later then, yes, I'd buy the Nicasio again.
However, if I had the money I would probably consider the Nicasio 2. The thru-axles and flat-mount brakes alone would make it easier to upgrade to a full GRX groupset. But it's also twice the price.
I'll be honest, with the components I have now, if I was to buy another road bike today all I really need is just a frameset. I really wish Marin sold just framesets for the Nicasio and others. That way I could just buy a Nicasio 2 frameset and add my own components. For people like me who want a more customized bike, framesets are a better way to go.
If you want a more customized bike then buying a pre-configured Nicasio might not be the best choice. For the same price as a full Nicasio, you could buy a very solid steel frameset from Surly, Ritchey, and others. From there, buy the components you want and put your bike together. Yes, it'll cost a bit more, probably closer to the total cost of a Nicasio 2, but you'll end up with a better bike in the long run.
Don't get me wrong...I love my Nicasio. I loved it when I first got it. I still love it (what's left of it!) even after all the upgrades. It's a great bike that has taught me so much about bike mechanics and maintenance. That alone makes it a worthy purchase. It's a bike that you can learn from. If that's the experience you want then you can't go wrong in buying a Nicasio.