Over at BikeRumor!, it was announced that Marin is releasing a new Nicasio + gravel bike.
Other than the addition of the WTB Horizon 650B tires, the only other change from the base model Nicassio is the switch to a 1×9 drivetrain using an 11-46t cassette.
I'll be honest, I'm not too fond of the color of the new Nicassio +. Looks like dirt...which I guess is nice if you ride in mud, which more or less would camouflage the mud. "Is it dirty? I dunno!" I like the blue of my Nicassio better.
Also, I'm not sure about the 1x9 drivetrain. That 11-46t cassette seems like a good idea...but, man, I don't know how efficient the shifting would be. I could be wrong though. I would prefer a 2x9, which I have. I'll likely be upgrading mine to a 2x11 using a Shimano 105 groupset. Now THAT is a better option. Having a decent variety on both the top and bottom of the gear set is an absolute plus for me. Basically means I can handle gravel and hills with the lower gears while still retaining some speed with the upper gears. Will this new 1x9 drivetrain give you that? Probably not. Seems restricted to just slower rides off the beaten path...which is fine if that's what you're after.
Seems that Marin read my mind because the WTB Horizons are the exact tires I switched to from the 700c tires that it came with. To me, it's the perfect tire for someone who wants to go predominently on road but still hit some gravel now and then.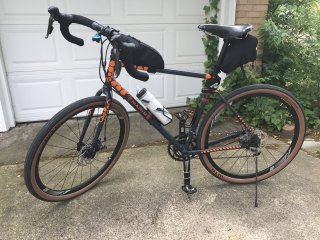 It's great that Marin is giving people more options with the new Nicassio + though. No doubt this configuration is good for someone. Love the tires, not sure about the drivetrain, hate the color. That's my two-cents. :P