In the past year, I've been a pretty active critic of Garmin. Not only have I been critical of the Edge 830 but also critical of Garmin Connect itself.
So when news broke that Garmin Connect was down on one of the DC Rainmaker posts I've been following. What makes this news especially damaging is the fact that so many Garmin devices (from bike computer, watches, and more) are heavily reliant on Garmin Connect. So much so that you can't even transfer anything without it.
That effectively means that, after completing a workout, you can't sync it till Garmin Connect goes back up...which totally sucks! Even the Wahoo Companion app isn't like that. If Wahoo's services go down, sure, you won't be able to sync with Wahoo's servers...but you can still sync with other server and/or export the results of a workout through the app. That doesn't appear to be the case with Garmin Connect.

According to ZDnet, the problem is due to some sort of ransomware attack on the Garmin network itself. This could very well end up being a multi-day thing so...yeah, Garmin users are SOL at the moment.
Till then, the only solution will be to connect your device via USB, transfer the FIT file of your workout to your computer, and then manually sync it with other services. In fact, DC Rainmaker just posted a page on how to upload your Garmin workout during the outage.
More reports are pouring in from other sources including Canadian Cycling Magazine and CyclingTips. The consistent thing said in both reports is that Garmin has yet to say when services will resume. One commenter on the CyclingTips website suggested that users change their passwords for Strava or any other third-party services that are attached to their Garmin account. Probably good advice.
I read a comment on the DC Rainmaker site that I think really hits home on what it is about the downtime of Garmin services that makes it so bad. If anything, it highlights a serious flaw in the design of services like Garmin Connect: the over-reliance on cloud services. Many other products similar to the ones Garmin sells don't require you to connect to their servers to use their products.
For instance, a Wahoo ELEMNT bike computer does require the use of the ELEMNT Companion app. But it doesn't require you to connect to Wahoo's networks to use it. If Wahoo's servers go down then all it means is that your ride data isn't synced to their servers. You can still sync to Strava, RideWithGPS, Dropbox, or whatever other cloud services that the ELEMNT Companion app is compatible with.
This is the major flaw with Garmin Connect: the inability to sync with third-party services without being directly connected to Garmin's networks. It's a huge flaw in the design of their products that is now being highlighted due to their networks being down. That's why so many customers are likely to be frustrated by the downtime of Garmin services.
This one graphic from the Strava Status page is very revealing: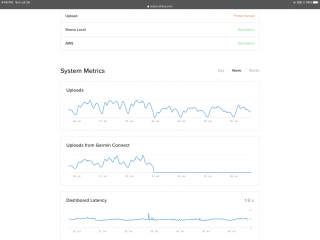 Basically, on July 23, uploads from Garmin Connect flatlined and overall uploads to Strava were practically cut in half. That should tell you just how much of an impact Garmin has on the industry. They nearly have 50% of the market.