After the fiasco that happened with the Bontrager R3 tires, I went out searching for a tire to replace them. What I found was both a happy accident and what will likely be the best road tires I've ever owned: the Rene Herse Barlow Pass TC tire.
The Search For A Supple Road Tire
After riding on the Bontrager R3 for a number of months, the one thing I wanted to avoid was going back to a stiffer, slicker road tire. Prior to getting the Bontrager R3 tires, I rode on a set of Continental Grand Prix 5000 tires. I definitely don't miss stiffer tires with less tread. I'm not a racer and getting anything that resembles a race tire is definitely not a good idea. The 32mm R3 was a much more supple tire and, with the added tread, gave me more confidence on sketchy terrain.
In my research for new tires, I considered just getting another road tire that is similar to the Bontrager R3 but more reliable. Because of my experience with the Specialized Pathfinder Pro, I considered getting a set of Roubaix Pro tires. However, it wasn't clear to me how supple this tire would be compared to the R3.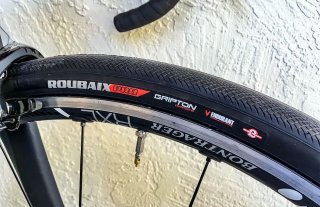 Being that I rode on the Pathfinder Pro on a 60+ mile road ride, I started to consider the idea of going with a tire wider than just 32mm. I love riding on my WTB Horizon tires. So, I suppose what I really wanted was a 700c x 38mm version of those. Unfortunately, WTB doesn't sell a 700c version of the Horizon. Closest thing they have is the Byway, which isn't exactly what I was looking for. I want some tread...just not a lot. It still needs to be predominately a road tire but still be capable of handling some gravel.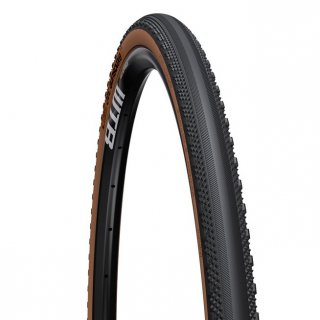 This led me to looking at the Victoria Terreno Zero, a tire designed for cyclocross and gravel. Smooth center with side tread that Victoria describes as "scales". For a 700c tubeless-ready tire, both 32mm and 38mm versions are available. Very enticing but I still wasn't sure. The Terreno Zero still felt too aggressive to me.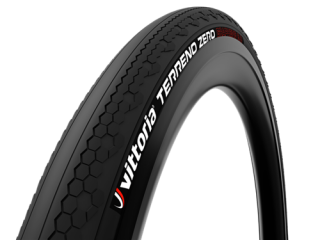 Enter Rene Herse Cycling
During my research, I came across many people commenting about Rene Herse Cycling, formally known as Compass Cycling. I've never even heard of this brand and yet it seems that they have quite a following. A lot of people seem to like their tires, including two-time Dirty Kanza winner, Ted King.
Rene Herse tires are Japanese made and are manufactured in the same factory as Panaracer tires. Considering the popularity of the Panaracer gravel tires, especially the Gravel King serious, that holds quite a lot of weight to me. Quality of all the Rene Herse tires is said to be exceptional. Based on their history, seems like these folks know a thing or two about bicycle tires.
The interesting thing about Rene Herse tires is that they're all pretty much the same. Other than tubulars, the majority of their tires are variants off the same basic styles. Your choice is between a knobby tire or one with a light herringbone pattern, which is very similar to the WTB Horizon.
You start off by picking the tire size (700c, 650b, or 26"), choose the style and width, and then chose a casing. Knobby tires are limited to just a couple of sizes for each wheel size. For the herringbone styles in a 700c tire, you have your choice of seven different tires between 26mm and 55mm. From there, you choose a casing: standard, extra-light, or endurance.
So the decision then becomes: Which style, width, and casing? Your choices may appear limited but, in my humble opinion, I think that's a good thing. Rene Herse basically took the few styles of tires they knew they could do well and simply applied them across different wheel and tire sizes. Whereas other tire companies offer a robust buffet of tires, Rene Herse prefers a more fine dining approach.
One article about The Best Gravel Tires on the Gran Fondo site reviewed the Barlow Pass extra-light tire and claimed it to be "the fastest tire" out of the ones they tested. I was certainly intrigued but wasn't sure if I wanted to go with a 38mm tire.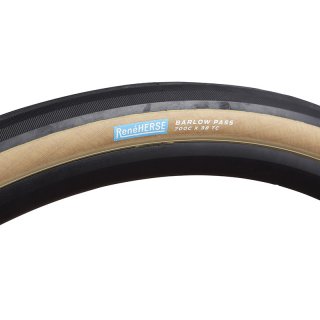 However, after reading an article by Ted King, I narrowed down to the Bon Jon Pass, which is a 35mm tire. Ted recommended the extra-light casing but, for me, I felt a standard casing is likely a smarter choice in that it'll offer better puncture protection. I considered the endurance casing but felt like it might be a bit too much for the kind of riding I do. I mean, I'm not doing Dirty Kanza or anything like that. Nothing crazy...at least not yet. ;)
Ordering A Set Of Rene Herse Tires
After reading another article about the 700C x 35 Bon Jon Pass TC by Rene Herse Cycles I knew this is exactly what I was looking for. A tire that resembled the WTB Horizon but designed for a 700c wheel. I didn't want a 32mm tire but wasn't sure if I wanted to go with a 38mm tire. The Bon Jon Pass fit the bill with a tire that was right in between. Like Rene Herse says on their website, it's the Goldilocks of tires: not to wide, not too narrow...just right! So, I ordered a set and waited for them to arrive.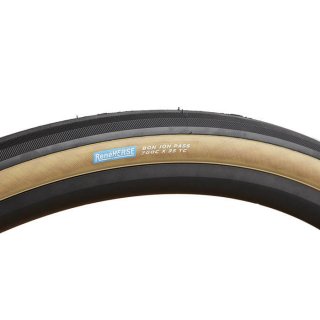 Err...at least I thought I ordered them. When the box arrived in the mail, I opened it up to see a set of Barlow Pass TC tires sitting in the box. I rushed to the computer to lookup my order and, to my dismay, I realized that I screwed up and ordered the wrong damn tires! Doh! Stupid, stupid me! Should have double-checked the order! In hindsight, it seems like an obvious mistake: Barlow Pass...Bon Jon Pass. The names are so similar that I didn't realize I was on the wrong page when I ordered them. $#@&! Ok then...now what?

I debated about returning them and getting the Bon Jon Pass tires. But after reading up on the differences, I decided to keep them and mount them onto my bike. As Ted King said, "When in doubt, go wider!" Since my bike can accept up to a 38mm tire, might as well go for broke, stick with the larger volume tires, and slap them on there! As you'll learn, it turned out to be quite the happy mistake.
Installing The Barlow Pass TC Tires
Installation was super easy. Probably the easiest tubeless tires I've installed yet. However, compared to other tubeless tires I've owned these fit pretty tight, which is fine. I prefer tires that fit nice and snug to the rim. In my mind, I would think this would aid in keeping things air tight.
Because they're a little tight, depending on your wheels, getting the bead over the rim might be a little hard. I managed to get the first one on without any tools but had to use a tire lever with the second one to get the last part of the tire over the rim. No big deal. Just needed a quick pull over the rim.
Based on a few reviews, Rene Herse recommends using Orange sealant primarily due to its thickness and ability to seep into the sidewalls better. While I'm sure other brands of sealant will work just fine, I went with the recommendation just to be safe. Definitely prefer the sidewalls being properly sealed. Plus, it was a good opportunity to try out a different brand of sealant other than Stan's, which is the only sealant I've ever tried.
Other than that, installation went super smooth. No problems when blasting air into them and getting them to seat. Added a couple of ounces of sealant in each tire, inflated them to max PSI, rotated and bounced them, and then deflated them to a reasonable pressure for a test ride. So far, so good! Let's roll!
Initial Impressions
After setting the pressure of the tires to 50 PSI in the rear and 48 in the front, I took them for a quick spin to get a feel for them.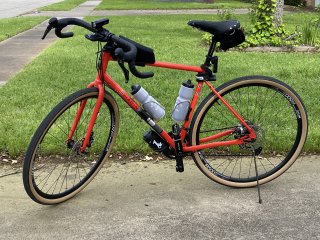 Almost immediately I noticed a difference in the speed. Granted, because of the larger circumference with a 38mm tire, they're likely to roll faster than a 32mm tire. Even then, the difference in speed between these and even the 38mm Pathfinder Pro's is quite remarkable. More importantly, they felt faster than the Bontrager R3's! Off to a good start!
Another thing I noticed was how they handle. I could really feel the tire in a turn on asphalt. There's a bit of a grabby feel to them. You can actually feel the tires gripping the road a bit. It's kind of a weird feeling really but strangely reassuring. This is probably the first tire I've ever had that sort of feeling with. Pretty cool actually. I'm sure once the tires are broken in a bit the grippy nature of the tires will settle in a bit.
The ride quality appears to be better than just about any tire I've ridden on. Due to the difference in sizes, it's definitely a softer ride compared to the Bontrager R3. The Pathfinder Pro is a bit stiffer tire so I expected the Barlow Pass to be a bit more plush, which it is. The only tire that is softer is the WTB Horizon tires I own. But the ride quality of those is quite different. The Horizon is more of a cruising tire, whereas the Barlow Pass is meant for more speed.
First Big Ride
The short test was quite revealing...but how does the tire fare over a much longer ride? Well...let's just say I'm giddy with joy over these tires. One reviewer referred to them as "butter slathering goddesses". After riding on them, I certainly understand what he means by that.
I did a 32-mile ride mostly on paved roads, concrete trails, with a few areas that had small stretches of dirt road due to construction. Starting off on my ride, I noticed all the same attributes I felt on the short test ride the day before. Handling in turns still felt firm and grabby. The plushness of the tire was even more noticeable once I hit some semi-bumpy areas of the road. Definitely absorbs a lot of the stress of the road.
After a while though all of that simply disappeared. It's not that it went away...it just became invisible. I got used to it relatively quickly. Guess you could say I got all Zen with it and "became one with the tires". I simply sank into the experience and enjoyed my ride. That's one of the things that these tires bring: a simple joy of riding.
While stopping at a rest area along one of the trails, an e-bike rider was "checking out my ride" as he put it. He was quite complimentary but the funny thing is that he referred to it as a "commuter bike". How precious. Poor guy just didn't know what it was he was looking at.
Continuing on, I turned onto a road that I knew had a lot of construction going on. One part of the road was all torn up and reduced to dirt. A week ago, I rode through the same stretch which, at the time, was super muddy. This time it wasn't muddy but definitely a little on the rough side. Unlike the 32mm tires before though, the Barlow Pass tires blew over the terrain providing ample cushiness the whole way.
While the vast majority of the ride was on concrete and asphalt, there were a few areas here and there where the terrain was either rough or covered in loose gravel and/or dirt. The handling of the Barlow Pass tires was quite responsive even over this kind of terrain, even more so than the WTB Horizon's. I think a lot of this is due to the centerline pattern being more pronounced. The centerline of the Horizon is smooth but with a couple of channels separating the centerline from the treaded area of the tire. Whereas, with the Barlow Pass, there's tread all the way across the tire. The centerline tread is where it really helps I think.
The buttery, comfy goodness of the Barlow Pass tires continued to deliver all the way through the ride. Never was a time when I thought the tire was failing me at any point in my ride. About the only thing I could see doing is going down even a bit more on the PSI of the tires. It's strange but I think bringing them down a bit more will make for an even better ride.
Speaking of PSI, I checked the tire pressure some hours later after returning from my ride. The good news is that tire pressure only went down about 1 PSI for each tire. That's pretty good. I honestly expected to see a higher loss. Not uncommon for a new tire to loose a bit of pressure for a week or so while the sealant works its way into the tire. But to see such a low loss like this is exciting. Hope this continues to be the case going forward.
Conclusion
I'm super pleased with my happy mistake. The Barlow Pass tires certainly have met my expectations and then some. Now, would I have been just as happy with the Bon Jon Pass tires? Perhaps, but in the end my mistake likely pointed me in the direction I should have gone in the first place.
So, if you're looking for a wider, larger volume tire that will work well for a bit of gravel but still excel on pavement I don't think you can go wrong with a Rene Herse tire. Go wide too! Go as wide as your bike can handle. In my case, it ended up being a Barlow Pass tire. For you, it might be a Bon Jon Pass, maybe something even wider, or something narrower. Regardless of which tire you choose, I think you'll be pleased with whatever "butter slathering goddess" you end up with. Cheers!